German telecommunications giant Deutsche Telekom will use Microsoft IPTV software to deliver next-generation television and other interactive services over its broadband networks.
The agreement between the leading communications company in Europe and the largest software company in the world is the biggest IPTV contract that Microsoft has signed in Europe and the second largest worldwide.
It follows an agreement with Telecom Italia and a previously announced deal with BT. A total of ten operators are now committed to commercial deployments of the Microsoft solution, including AT&T and Verizon in the United States. Other operators are involved in trials, including Bell South, Bell Canada and Reliance Infocomm.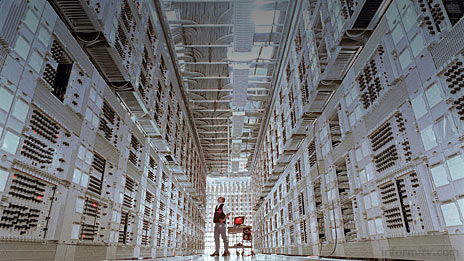 The ambitious Deutsche Telekom service, previewed at the CeBIT trade show, will provide customers with standard and high-definition television programmes, interactive TV, digital video recording and video-on-demand. It will be delivered through a new very high bit rate VDSL network, which is currently being extended. It is expected to provide speeds up to 50Mbps and is planned to launch in ten major German cities in mid-2006.
Alcatel of France, a partner of Microsoft, will contribute to the network upgrade, as will German company Siemens. The latter misses out on the opportunity to deploy its own IPTV software solution from Myrio.
"IPTV delivered via VDSL will enable better, more service-oriented, more interactive and, above all, more customized television," said Kai-Uwe Ricke, the chairman of the Deutsche Telekom board of management.
The joint announcement said that unlike many broadcast interactive TV services available today, interactive TV on IPTV leverages the always-connected, two-way, broadband network to deliver richer interactive TV capabilities.
"Working together, Microsoft and Deutsche Telekom will help create a revolution in TV entertainment for consumers across Germany," said Steve Ballmer, the chief executive officer of Microsoft. "With its rapidly growing customer base, and the power of next-generation technologies like IPTV, Deutsche Telekom has the potential to deliver exciting new connected-entertainment services across the range of consumer devices in the home."
At the TelecommNEXT conference in Las Vegas, Robbie Bach, president of the Microsoft entertainment and devices division emphasised the commitment of the company as a strategic partner for telecommunications service providers.
He outlined his vision for television: "When I watch TV, the content I see there should be directly relevant to me, and delivered on my schedule — and I should be able to watch it 'together' with any of my friends and family around the world."
"With IPTV, service providers can offer consumers a more compelling, personalized TV experience," he said. "Until recently, the TV set has been an island of information and entertainment in the home, but when you give the TV a strong back channel and connection to the world through IP, it opens the door to an amazing number of content choices and services."