Microsoft has finally unveiled its vision for the ultra-mobile personal computer at the CeBIT trade show in Hannover, Germany. The project, previously codenamed Origami, is based around a full version of Windows with touch-screen support in a portable form factor.
About the size of paperback book, it is essentially a small notebook computer –without the keyboard.
Ultra-Mobile Personal Computers, or UMPCs, are being presented as a new category of mobile computing devices. Bill Mitchell, who heads up the Windows mobile platforms division, said they are designed to support our increasingly mobile lifestyles. "The 'Origami' project is really our first step toward achieving a big vision," he said. We believe that UMPCs will eventually become as indispensable and ubiquitous as mobile phones are today."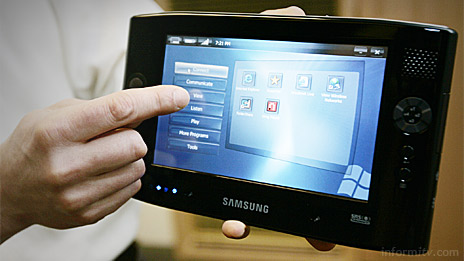 On show was a model from Samsung. When it goes on sale in Europe in April it is expected to retail at 1,000 euros or £699.
Although hardware designs will vary by manufacturer, they are intended to have a 7-inch touch-sensitive screen, although they can also support a traditional keyboard. Some devices may also have integrated digital television tuners. They are designed to be easily synchronised with a home PC to download music, movies and photos.
Industry opinion appears divided as to whether this class of mobile device, which falls somewhere between a portable media player and a small notebook or table personal computer, will indeed become as ubiquitous as the mobile phone.