Among the production prototypes pitched at the American Film Institute Digital Content Lab, World Wrestling Entertainment may have seemed an unlikely contender, but the concept demonstrated one way that interactive television could break through in the United States.
Rather than seeking to enhance a linear programme, this production prototype showed how interactivity can be wrapped around pay-per-view events and video-on-demand services, and is equally applicable to any programme genre.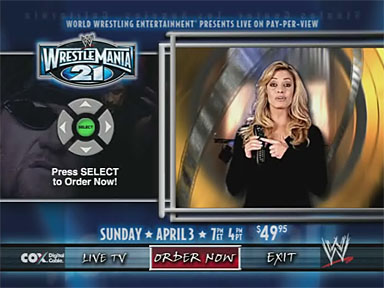 In this case, the proposed application was designed to promote the WrestleMania pay-per-view event to customers of the Cox Communications cable service. Subscribers are able to order the pay-per-view event using their remote control, and gain access to video-on-demand trailers and promotions.
The application was designed and developed by Ensequence, targeted at a set-top box supporting OCAP, the Open Cable Applications Platform based on MHP, but equally capable of implementation on other middleware platforms.
The significance is perhaps that rather than simply serving the interests of the network, this application also benefits the cable operator, which benefits from a share of the pay-per-view revenue.
Consequently, there is an incentive for the service provider to support the technology, even if it is not deployed in every market. In the fragmented cable environment of the United States, this represents a significant way forward for interactive television.
The application takes advantage of the video-on-demand infrastructure that cable operators are already deploying and wraps around it a simple and attractive DVD style presentation to provide a benefit to the viewer that is based on a practical business model.
In contrast to some of the more indulgent applications of enhanced television we have seen, this pragmatic approach might actually make it to deployment.