Briefing analysts, a dynamic James Murdoch described "a relentless determination to continue to set the pace". In addition to high-definition television, the satellite operator is also focussing on broadband.
Outlining a change in the competitive landscape, he said that new technologies were allowing players in adjacent sectors of the marketplace to compete with each other, and will allow Sky to challenge incumbents. He said that broadband would allow the company to grow into new segments, adding value to their offering.
Sky has completed its £211 million acquisition of broadband service provider Easynet, and is preparing to roll out consumer services in the second half of 2006. The company will spend an additional £35 million installing equipment in around 750 telephone exchanges by the end of the year.
Research shows that five million homes in the UK will subscribe to broadband for the first time within two years.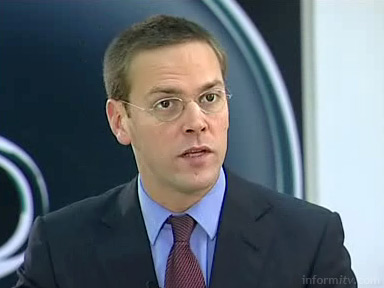 In an earlier interview James Murdoch described it as "a new phase of growth for the business as we start competing across a number of different segments and really offering our customers something that's very, very exciting".
"We're working with all the teams at Easynet and at Sky to put together the right kind of consumer propositions," he said. "We're building out the network to be able to offer our customers the highest quality of broadband and telecom services we can and there's quite a lot of activity around that."
According to recent ICM market research, asked which brand would be best at bringing together in-home entertainment and broadband requirements, customers picked Sky ahead of BT, BBC, ntl, Sony, AOL, Google, Telewest, Virgin and ITV. James Murdoch seemed delighted by that result.
Sky recently launched a broadband service, offering premium service subscribers free access to movies and sports material. In the first three weeks after launch around 52,000 customers joined the service, generating over 70,000 movie downloads.
The proposition is positioned as an added-value service, to give subscribers more freedom, which Sky sees as important. "It's about people having a bit more flexibility. So they can watch something in the living room or wherever the TV screen is, or they can download it onto their laptop, take it with them if they like, and consume it in a slightly different way."
Movie downloads are an initial step towards video-on-demand. The rollout of a broadband network will give Sky the ability to offer a broadband video or internet protocol television service.
"We think we're very well placed as we look at the landscape going forward and we look at the competitive factors that are out there, both in the free-to-air sector but also in the pay television sector, with new players coming in, IPTV and things like that."
Sky is building a platform that "will be able to handle an IPTV product," but he sees this as part of a seamless mix of services within the home. While broadband may be appropriate for some customers, for instance in apartments, Sky believes that satellite will continue to deliver higher bandwidth for broadcast services, including high-definition television. As James Murdoch likes to say: "You cannot eat a sandwich through a straw".