Subscribers to the Sky satellite television service in the UK are receiving an update to their electronic programme guide, enabling them to create a personalised grid of up to 50 favourite channels.
With over 500 channels now available, the update to the Sky Guide is the most significant since the launch of the digital platform in 1998.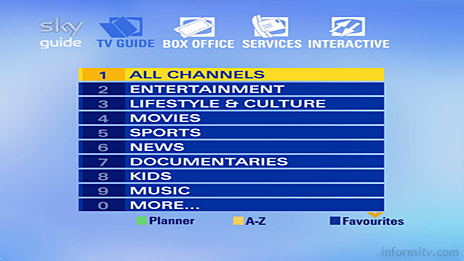 The number of programming genres will be increased to 15, split over two pages, with radio channels having their own dedicated categories.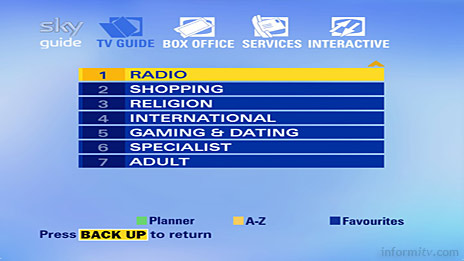 The programme planner used for the Sky+ personal video recorder moves to the green button. In the future it may be possible to schedule a recording by pressing the green button during a programme promotion.
Viewers will be able to create their own list of favourite channels and see seven-day listings at a glance by pressing the blue button.
Rolling out the new version 4 software is a complex task, with over-air updates to address the population of over eight million set-top boxes, covering 80 different versions from multiple manufacturers. Only a certain box type and version will receive the instruction to update at a particular time. The process is expected to take over a month to complete.
In some cases, after receiving the update, subscribers may need to switch off their box at the mains for 30 seconds to enable the software to reload.
On 28 February most channel numbers will also be changing. Radio channels will be assigned a four-digit number beginning with 0 to accommodate the increased demand for digital radio services on the satellite platform.
The Sky programme guide is generally regarded as one of the best of its type and the new update is intended to improve ease of use further as the number of channels available increases.
In the future, an entirely new paradigm of programme guide may be required as the number of viewing options proliferates. This is an area of research and development in which informitv is actively engaged.