Bill Gates says that the next generation of interactive television services "completely blows open any of the limitations that channels used to create" and "blows away the previous video platform".
The chairman of Microsoft took the opportunity of his keynote presentation at the Consumer Electronics Show in Las Vegas to talk about the increasing influence of software in the living room on what he called the decade of digital lifestyles.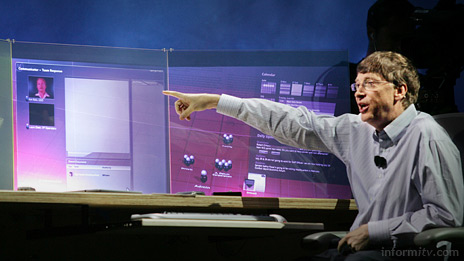 In addition to previewing Windows Vista, the next release of the Windows operating system, he devoted a significant amount of his presentation to Windows Media Center, and the role of software and television, and in particular internet protocol television or IPTV, although he only used the term once.
"TV is, of course, a big activity and one that we see software really surprising people with what it can do," he said, referring to software creating a personalised video feed, allowing targeted advertising and intelligent interactive television. "This platform will lead to creativity in doing shows of all types: learning shows, game shows, sport shows with extra information, multiple views."
He referred to "long tail video", citing a physics lecture or a high school sports game that would not have previously made it to broadcast, as part of "one seamless experience, not your normal TV here and your internet TV over there".
"So interactivity, choice, personalization are all things that never were possible before we had this platform." Such rhetoric has been heard before, notably at the same show the previous year.
Last year, according to Bill Gates, was a year of trials, very successful trials apparently, and this year lead customers AT&T and Verizon are rolling out in commercial deployment. "Over the course of this year these deployments will really scale up into very large numbers, and that's when you'll really start to see the innovation come in, and people recognize that it blows away the previous video platform, and allows for an opportunity to create lots and lots of new things."
Meanwhile, with Windows Media Center he announced a partnership with DIRECTV that will enable that video to be delivered to a Windows Media Center and connect up with the Xbox 360 games console and portable devices.
Microsoft is also working with BSkyB, which he described as "sort of a sister company of DIRECTV over in the UK," referring to the launch of the Media Center edition of the Sky by Broadband service.
With its IPTV Edition software platform, Windows Media Center and forthcoming Vista operating systems, and the Xbox 360, Microsoft is clearly making a strong play to dominate the television screen as much as it has the desktop and the laptop.