Apple has unveiled the much anticipated video version of its iPod portable media player with a colour screen, capable of storing over 150 hours of video. Music videos, short films and episodes of popular television programmes will be available for download.
Steve Jobs, chief executive of Apple, said that because millions of people will buy it to play music "it will quickly become the most popular portable video player in history."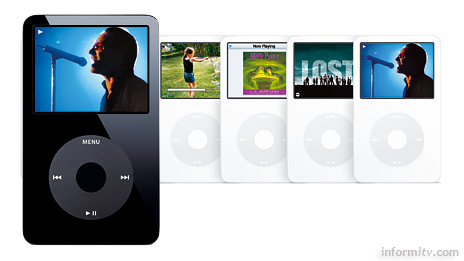 The new iPod has a 2.5 inch 320×240 pixel colour screen, is 30 percent thinner and has 50 percent more storage than its predecessor. It will begin selling in the United States for $299 for the 30GB model or $399 for 60GB, and will be available in black or white.
Up to 150 hours of video material can be stored at 750Kbps using H.264 MPEG-4 video compression.
The iPod is designed to allow provide portable playback of music, photos, audio books, home movies, music videos and popular television shows. It can also be connected to a television screen for full-screen playback.
The iTunes online store will include video as well as audio material, initially including over 2,000 music videos, six short films from Pixar, and five television shows from ABC and Disney Channel, including current and past episodes of Lost and Desperate Housewives, without commercials, available for $1.99 each.
Users will be able to purchase and download programmes the day after they first air on television, although it seems that these will only be available to customers with a credit card billing address in the United States.
"We're doing for video what we've done for music. We're making it easy and affordable to purchase and download, play on your computer, and take with you on your iPod," said Steve Jobs.
"This is a first giant step," said Disney chief executive Robert Iger. "It is the future, as far as we are concerned."
The landmark deal could be a prelude to agreements with other video rights holders. It will attempt to establish a price point and mainstream business model for downloaded video programming, in the same way that iTunes attempted for music tracks.
How well video will translate to the iPod form factor remains an open question, and video at 320×240 resolution is still some way off a widescreen high-definition television experience. With many more programmes available as illicit downloads over peer-to-peer networks, it may be more difficult for iTunes to compete in the video space.
Apple also revealed their latest iMac G5 computer, featuring a remote control and special Front Row software for controlling multimedia from across the room. Unlike the Microsoft Media Center, it does not include a television tuner.