Emuse has followed up on exclusive deal with ITV with a long-term exclusive partnership with Channel 5 covering interactive TV sponsorship.
Emuse will collaborate with the UK commercial broadcaster Five, using their ModelStream application to create and deploy interactive sponsorship campaigns, starting with a promotion for Peugeot.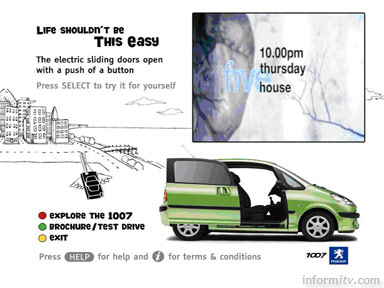 "This collaborative relationship is yet another step towards further developing the sophistication and proliferation of interactive content" said Patrick Rainsford, the chief executive of Emuse Technologies. "The sponsored spots are a particularly good mechanism for access to the viewer, as they top and tail programmes, so with Five we are about to offer brands a real opportunity to reach a very large audience in a comprehensive way."
"Interactive is a great way of enabling the Five movie viewer to find out more information about our cars featured in the sponsorship idents," added Melanie Kent of Peugeot, noting that it was an innovative way to extract maximum value form their movie sponsorship deal.
"Brands will be able to enter into a dialogue with viewers; enabling them to capture highly qualified data and extend their branding in a very cost efficient manner, said Johnathan Lewis, head of commercial development at Five. "We chose to work with Emuse as they demonstrated professionalism and core understanding of our requirements in this market."