Tamblin, an interactive TV tools company based in London, says that it aims to take its i-ZoneTV software to a wider international market.
Tamblin has had significant success in the UK with its modular software suite, i-ZoneTV. This is used to manage the Sky Active Portal, and to create and manage interactive television content for other major UK broadcasters, including ITV, Channel 4, Five, Flextech and Disney. In the last six months alone it has been used to publish over sixty interactive services, including Big Brother, I'm a Celebrity, and Hell's Kitchen.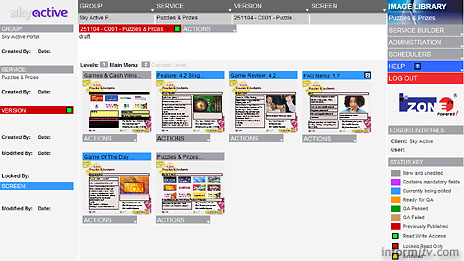 The i-ZoneTV system provides a web-based interface that allows producers to manage the dynamic publishing of interactive content within pre-defined template frameworks. Additional modules provide support for features such as interactive advertising and integrating text and multimedia messages from mobile phones.
The company has partnerships in place with interactive authoring tool developers Emuse and Ensequence, as well as Inscriber and Pixelpower which provide on air graphics systems.
At IBC in September, Tamblin will officially launch its i-ZoneTV Gallery product, which enables broadcasters to deliver text to screen applications and games using industry-standard character generators.
"We're very excited about the international opportunities – especially in Europe and the US," Stuart Waite, the chief executive of Tamblin told informitv. "This year we are strengthening our sales and software development team and making a number of enhancements to i-ZoneTV so we'll be ideally placed to help broadcasters, producers, advertising agencies and brands exploit the potential for interactive TV on an international scale."
Tamblin will use a research visit funded by the Department of Trade and Industry to asses the North American market and seek business opportunities with major broadcasters.
The announcement from Tamblin comes after Mindhouse, another London based provider of content and application management systems for interactive television, was placed into administration.
"The predicament of a few companies in this industry is not an indication of the industry as a whole," commented Stuart Waite of Tamblin. However, he acknowledges that the United States is large market to address, noting that "Tamblin enters this market with eyes wide open with a long term strategy to build up a strong business as we have done in the UK."
He adds that the business is not all about interactivity through the set-top box: "We all need to remember that interactive TV is not just about the red button – it's much much more."
Stuart concludes that "The US is just starting to see the benefits of a system like i-ZoneTV that can deliver templated based applications to multiple platforms – including non red button applications if required."