Aeon Digital has announced a revolutionary digital video recorder that can record programmes over the internet and lay them off to DVD.
This latest digital video recorder can record up to 200 hours of television programmes and burn up to 30 hours of video to a single recordable DVD disc. The same box can also play media, digital photos, music and video, directly from a personal computer.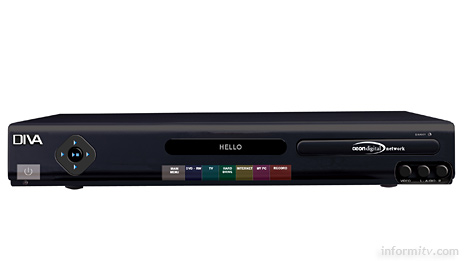 But wait, there's more. It will also allow users to rent DVD quality movies over the internet. To provide the internet based services, the company will launch the Aeon Digital Network, which it claims will change the way entertainment is delivered to and viewed in the home.
After plugging the box into a home network it will automatically connect to the Aeon Digital Network over the internet. Users will be able to choose between instant playback of streaming video, or high quality downloaded material.
The Microsoft Windows Media 9 format is used for recording and internet playback, and files can also be played back on compatible computers or other devices.
The DIVA DV-280 DVR was on show at the Broadband World Forum Asia in Yokohama in Japan. It will apparently be available in shops from September for around $299 under various brand names.
Aeon Digital International (ADI) is private company with offices in Los Angeles, Silicon Valley and Shanghai.
Aeon says that by hosting its service on the internet backbone, it is not limited to offering its services to customers of a specific service provider. Anyone with a high-speed Internet connection can use the product, "subject only to regional content licensing restrictions". The company says it "ushers in a new era of IPTV without borders".