Pace, the UK set-top box company, has revealed what it claims is the world's first hardware H.264 MPEG-4 set-top box for the IPTV market.
Designed for the emerging opportunities for delivering video over broadband data networks, the new Pace box decodes MPEG-2 and MPEG-4 AVC/H.264 directly in silicon, rather than in software.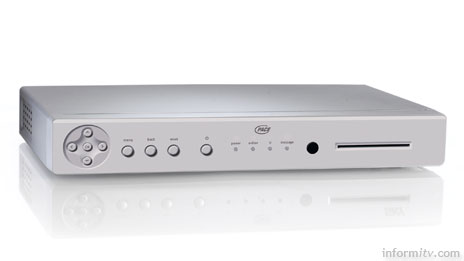 The device will be on show at the ANGA trade fair for the cable, satellite and multimedia industry which takes place in Cologne in Germany. The full launch will take place at IBC in Amsterdam in September.
David Gillies, director of technology at Pace, comments: "There is a real demand for an entry-level IPTV solution but, up until now, barriers to entry such as cost and bandwidth, have prevented operators from realising the opportunities from this market."
He suggested that in volume shipments, the IP215 box could be available for less than $100 a box, which is considered to be a critical price point for operators.
The box will support popular conditional access providers, including NDS and Widevine. As well as working with key system integrators, including Siemens and Alcatel, it will be equipped with advanced browser-based user interfaces through its integration with ANT Galio and Espial's Evo middleware and application framework.
ANT Galio is an advanced browser-based user interface, combining the latest television and web standards with high performance in a small memory footprint. ANT, based in Cambridge, England, says that its support for the latest standards can help reduce server loads and the bandwidth requirements for delivering compelling interactive services.
The competing Evo offering from Espial, based in Canada, also offers a browser-based environment. Espial says this allows applications to be customized and personalized using traditional web tools and technologies.
The use of browser-based interfaces for broadband television services is a departure from the application based middleware typically used for interactive television with systems such as OpenTV. There are advantages to both approaches, but the modern browsers enable a far richer environment to than the clunky interfaces sometimes associated with web-based cable systems, with the advantage that they can be rapidly customised using widely available web tools and skills.
To date Pace has been rather outpaced by another UK company, Amino, which has made the running with its delightfully diminutive designs, a situation that the world's largest dedicated developer of digital set-top box technology is keen to address, although externally it's latest design is firmly in the mould of previous satellite and cable products.
"The IP215 puts Pace at the forefront of the IPTV market," said David Gillies. "This set-top box is the first in a family of IPTV products we are set to launch this year to enable operators to take advantage of the opportunities available to them through triple play offerings."
Described as an entry-level IPTV set-top box, the IP215 comes with an Ethernet port to connect to a broadband service, with USB 2.0 support for connection to other external devices. There is an optical audio output for Dolby 5.1 surround sound, and two optional microphone inputs.
Its dual CPU architecture delivers almost 500MIPs total processing power, with the second processor dedicated to H.264 MPEG-4 AVC decoding.
www.pacemicro.com
www.aminocom.com
www.antplc.com
www.espial.com
www.angacable.de