Glasgow is formally launching what it claims to be the world's first city-produced twenty-four hour broadband television channel.
Glasgow.tv has been created as a broadband television service to showcase the Scottish city as an event venue and tourist destination.
London already has a tourist television station, London TV on Sky satellite, commissioned by Visit London, the official visitor organisation for the capital, and managed by enteraction tv. The service is also available with on-demand features on the HomeChoice broadband television service.
Unlike the broadcast service for London, Glasgow.tv will be available anywhere in the world over the internet.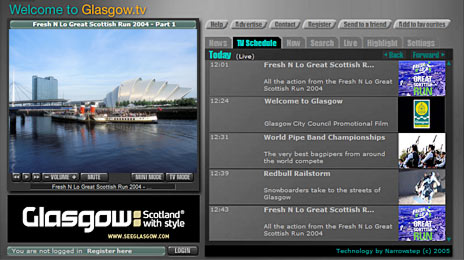 The service runs on the TV Station in a Box platform provided by Narrowstep. First demonstrated at NAB, this software platform allows the customer to configure the channel and upload content through a web-based interface.
The system is specifically designed to manage content for broadband television, mobile networks and digital signage applications. It incorporates an advertising system to manage campaigns across both live and on-demand applications.
Based in London, Narrowstep is planning an initial public offering in the United States.