A start-up company aims to offer the future of public television and radio using free distribution of programmes over the internet.
The Open Media Network will offer free programming over the internet to users anywhere in the world. Material can be selected from an electronic programme guide and scheduled for background delivery through a peer-to-peer distribution network.
The system will employ the grid delivery technology from Kontiki previously used by the BBC in the pilot for their own Internet Media Player. The announcement of the Open Media Network combines two concepts currently being separately pioneered by the BBC: secure peer-to-peer distribution and use of the Creative Commons licence.
Mark Homer, the founder of the Open Media Foundation, also happens to be the chairman and co-founder of Kontiki. He was previously an executive at America Online and Netscape Communications.
Unlike some other peer-to-peer distribution networks, such as BitTorrent, which are widely used for illicit file sharing, Kontiki is a commercial system that provides central control of content with digital rights management based on Microsoft Windows Rights Manager.
Publishers can choose whether material can be shared, copied, or viewed a set number of times. Producers can authorise the use of their material through Creative Commons licenses. The Open Media Network also plans to offer a secure payment system for premium content, and will take a share of revenue to finance its operations.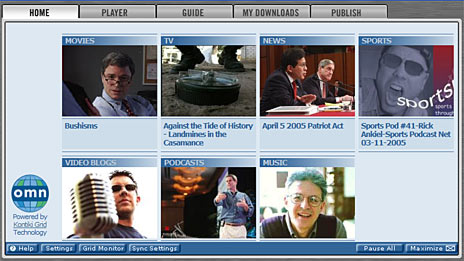 Broadcasters WGBH and KQED are among the first public service radio and television stations offering content. The service will also offer other forms of content, including video blogs and podcasts, or downloadable radio shows made available through RSS syndication.
"Widespread broadband adoption, mass market video creation tools and technologies such as RSS are transforming communication, entertainment and information," said Mike Homer, founder of the Open Media Foundation. "Our goal with Open Media Network is to provide a valuable public service that gives consumers an easy way to get both traditional and grassroots media authorized for internet distribution and help usher in a new era in mass publishing."
Users will be able to select season tickets for the automatic delivery of their favourite shows, and automatically synchronise material to portable media devices and home media centres. They will also be able to rate material and provide other feedback.
Producers will benefit from the free delivery of their material in a relatively secure environment.
The Open Media Network is running a public beta test service. It currently requires Microsoft Windows Internet Explorer. Macintosh and Firefox versions are in development. Installation of the software is a relatively simple process, initiated by downloading the first programme. This offers the potential for viral super distribution, which could enable the Open Media Network to take off. The user interface currently presents simple lists of material under basic categories, and will require refinement in order to scale further.
The announcement follows news that Google will add video to its search capabilities, and a number of other initiatives from start-ups such as Brightcove.