High-level authoring systems with the ability to deliver to multiple platforms are opening up the potential for interactive television advertising.
Interactivity was frequently mentioned at the recent National Association of Broadcasters conference in Las Vegas, but interactive tools were in short supply on the vast exhibition floors, with none of the major middleware providers exhibiting.
Emuse
In a hotel suite away from the main convention, Emuse Technologies was demonstrating its cross-platform authoring solution, showing very similar interactive television advertising services running in both OpenTV on an Echostar satellite set-top box and on the OCAP cable television platform. The company is also confident that it will be able to support the NDS middleware used by DIRECTV when it opens up its platform to third parties.
The Emuse Modelstream system is one of a number of authoring packages that are able to target multiple interactive television middleware environments by using separate runtime engines for each platform.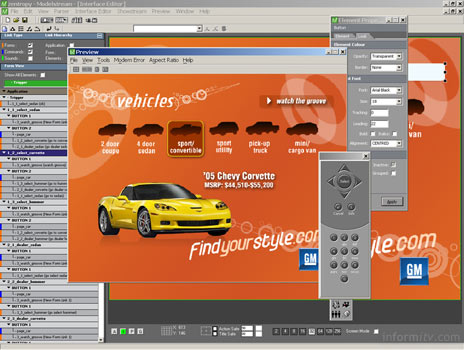 Side-by-side there was little difference between an example interactive commercial for an automobile brand running on a satellite receiver or on a cable box, although some platform limitations necessitated minor changes.

Delivering cross-platform applications on air remains an operational challenge, but advertisers can at least start to consider offering an interactive television brand experience across networks.
The demonstration of similar services running across different set-top boxes has been something of a revelation to American advertising agencies, which have been frustrated by the fragmentation of different systems that has held back the interactive television industry in the United States.
Interactive adverts are already commonplace in the UK, where Emuse has helped Zip Television produce a number of campaigns. In all there have been well over 500 interactive campaigns run on the Sky satellite platform.
Ensequence
Meanwhile, Ensequence, which offers a similar authoring system known as on-Q, has also been engaging the advertising community with the potential for interactive television. The company is due to announce a campaign with a well-known global technology brand, featuring material specifically commissioned for an interactive campaign.
One of the main areas of interest, according to Ensequence, is the potential for sponsorship opportunities in connection with internationally distributed programme formats.