Orca Interactive has integrated its RiGHTv IPTV middleware with a customer management system from Amdocs to offer a seamless ordering, fulfilment and billing solution for emerging internet protocol television services.
The combined offering supports broadcast television, video-on-demand, personal video recording, pay-per-view and other interactive services. The aim is to simplify the customer experience and reduce the time to market for new video services, creating a customer-centric environment to attract high-value subscribers.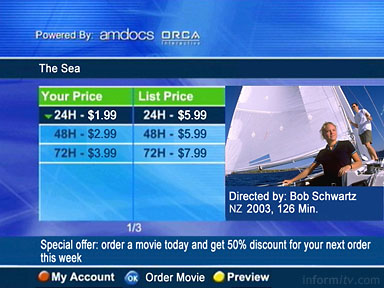 "As IPTV is a relatively new service in most areas, one of the key issues providers are concerned with is attracting and retaining subscribers," said Eran Wagner of Amdocs.
The integration will provide customer self-service facilities, supporting transactions according to operator-defined business rules, with the ability to view instantly updated phone bills on screen, including purchase details for video services.
Amdocs will also use Orca tools to create additional advanced interactive services. The Orca subscriber user interface software development kit enables systems integrators, operators and other third parties to differentiate their offerings by adding additional services customized with their brand.
"The joint offering from Amdocs and Orca will provide our customers with the scalability and flexibility required to support the growing IPTV subscriber base with seamless ordering, fulfilment and billing for IPTV services and bundled packages," said Yosi Glick of Orca.
With the availability of triple-play services of voice, video and data, the ability to create a coherent customer experience will be critical to the success of the next generation of interactive television services.