Tetris is now available as a multiplayer game on the Sky Gamestar interactive television platform.
Building on the success of Tetris, which is now twenty years old, this new version adds a multiplayer dimension. Players can compete against each other through their Sky set-top box, using their remote controls to rotate and place pieces as they drop to make complete lines as quickly as possible. When players create two or more lines, they are sent to the other player's screen, pushing their pieces ever closer to the top.
The system tracks the performance of each player, to match them up with others of the same skill level.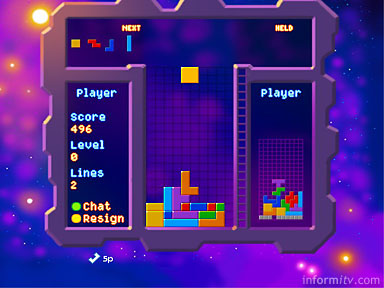 "Working on a game with a history and fanbase like Tetris has been an exciting challenge," said Colin Anderson, the managing director of Denki, the company based in Dundee that developed the application. "We wanted to ensure that the simple and addictive gameplay was faithful to the single player game and make it as easy and convenient as possible for players to find and challenge others."
"Tetris is an ideal title for Sky Gamestar," added Adrian Pilkington, the commercial director of the games service. "Tetris is a huge single-player title and so we're very excited about launching a multiplayer TV version with our Liveplay service."