Advanced Digital Broadcast has announced its first receiver to feature a new single chip solution to support the latest advanced video codecs, combining broadcast and broadband delivery with interactive services, and providing possibly everything you could want from a set-top box.
The new hybrid box has been launched at the European Cable Communications Association Congress in Budapest. It offers viewers a single platform for both standard and high-definition television, received through either cable, satellite or terrestrial broadcast, in addition to IPTV streams over broadband networks.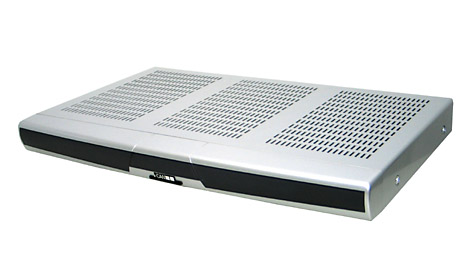 As well as MPEG-2, there is support for advanced video coding schemes, using both H.264 MPEG-4 and VC-1, providing both standard and high definition video.
Based on a single STi710x processor from STMicroelectronics, the 7800W box supports leading middleware including MHP or OCAP using a software stack from Osmosys.
Options are available for peer-to-peer video telephony and voice over internet protocol services. Personal video recorder facilities are provided as an option with a built-in or external hard disk, and video and data can be shared with other receivers through a home network.
In short, it sounds like the designers have covered all bases. Billed as a leading-edge entertainment station, the only real questions that remain are how such functionality will be integrated within a user interface and whether it can all be delivered at an acceptable price point.
www.eccacongress.com
www.adbglobal.com
www.st.com
www.osmosys.com