RTD has launched two new channels with MHP interactive TV applications on digital terrestrial television in Italy.
Reti Televisive Digitali in Milan was established in July 2004 as a joint venture between Teletext Italia and Profit Group of Milan, Italy's fourth largest broadcaster.
The new applications include an interactive news service that allows users to read up-to-the-minute news stories and download short video clips from the evening bulletin. This technology will also be employed in the future to allow the purchase and download of premium-rate audio visual content.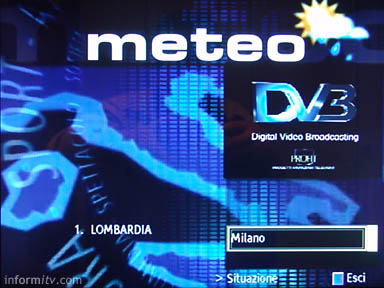 An interactive weather service is also among the suite of applications. A configurable viewer voting application allows responses to be collected and counted on different shows, while a TV messaging application enables email, text and multimedia messages to be sent and received through the set-top box, alerting viewers to new messages while whey watch television.
A travel application allows users to book flights using their televisions, and there is the facility for Government information to be published and updated through a secure web interface.
Italy is something of a shop window for MHP, the Multimedia Home Platform specification, with competitively priced set-top boxes selling well as a result of government subsidies.
RTD is both a DTT broadcaster and runs an iTV outsourcing department for iTV application development and management.
The applications and services are based on the DigiHost platform from Irish iTV software company DigiSoft.TV, which has recently opened offices in Milan and Denver, Colorado.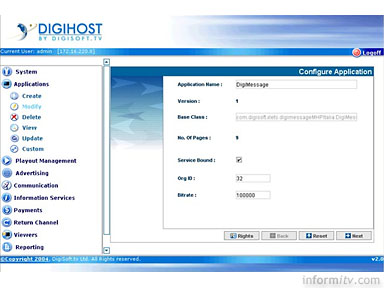 The DigiHost iTV management platform provides playout and application management using a public API based on open standards, with support for carousel delivery, back channel handling, transaction aggregation and fulfilment, measurement and analysis.