Telewest Broadband has confirmed that it will use a PVR from Scientific-Atlanta to launch its personal video recorder service on cable in the UK.
The new Explorer 8300DVB PVR will provide three video tuners to allow three separate programmes to be recorded at the same time, or two programmes to be recorded while watching a third.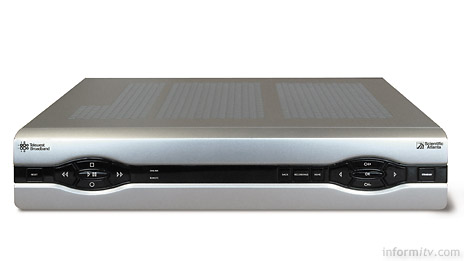 The PVR comes with a substantial 160Gb hard drive, able to store around 80 hours of programming, matching the latest Sky+ box. It will also support high-definition HDTV signals for future use. It is equipped with both component analogue and HDMI digital outputs for high definition, together with dual SCART, optical digital audio and an Ethernet port.
The box comes with 64Mb RAM, 8Mb flash memory and 128Kb non-volatile storage and a 500MIPs processor. There is a smartcard reader slot at the back, with support for Nagra content protection. It incorporates a DOCSIS cable modem for high-speed data access.
Scientific-Atlanta has been selected as the exclusive PVR supplier to Telewest Broadband for a two-year period.
"It's a fantastic box of TV tricks that people will wonder how they ever survived without!" said Eric Tveter, president and chief operating officer at Telewest Broadband.
"We are capitalizing on Scientific-Atlanta's extensive interactive video experience and innovation by using their expertise to lead our vendor integration effort. This integration expertise will help accelerate deployment of the 8300DVB PVR and help deliver a smooth interactive video experience for our customers."
The current interactive platform is based on middleware provided by Liberate and the Conditional Access System provided by Nagravision. Integration with these systems is currently underway and scheduled to be completed in the first half of 2005.
"PVR technology will become the enabling digital service for operators throughout Europe," said George Stromeyer, vice president and managing director at Scientific-Atlanta Europe. "PVR technology has been extremely popular in every market where we have launched it for our customers. Our research indicates that 92 percent of users are likely to continue their PVR service, and 75 percent say they have recommended PVR to someone not in their household."
Scientific-Atlanta sold 449 thousand PVRs in the last quarter, an increase of 72 percent from last year, including 193 thousand high-definition devices.
"We continue to benefit from a mix shift toward higher-end products as consumers increase their adoption rates of high-definition television and digital video recorders," said Scientific-Atlanta chairman Jim McDonald. "In addition, international sales have reached the highest level in more than two years. We are comfortable with our strategy and believe that it can provide ample opportunity for the future."
The availability of a PVR will allow Telewest to compete with the Sky+ product from BSkyB used in around half a million UK homes. The support for high-definition is an interesting indication of possible services in the future, while the integration with Liberate middleware appears to confirm the cable operator's ongoing commitment to that platform.
Telewest only recently announced the initial launch of a video-on-demand service. According to the Telewest president, the availability of both services will give customers the best of both worlds, offering freedom from the television schedule and on-demand access to a wider selection of movies and TV content. "It's not about offering people more TV, but giving them the freedom to watch exactly what they want, when they want."
William Cooper, principal consultant at informitv, observes that with many analysts anticipating further consolidation through an expected merger of Telewest and ntl's cable operations, 2005 could mark a turning point in the UK cable industry, driven by growth in broadband and the availability of new interactive TV services that redefine the cable experience.