Gemstar-TV Guide is the subject of speculation that it could be acquired by News Corporation or Liberty Media Group, following the departure of its chief executive.
Chief executive Jeff Shell recently resigned from Gemstar, where his contract was coming up for renewal, to be replaced by Rich Battista, most recently vice president of business development and strategy for Fox Entertainment Group.
This has prompted speculation on Wall Street that News Corp, which already has a 40% stake in Gemstar, may be considering acquiring the print and electronic programme guide provider, either to support its controlling stake in DIRECTV or to trade assets with Liberty Media, controlled by John Malone.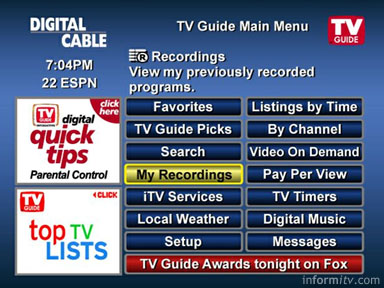 Announcing the changes, Rupert Murdoch, a member of Gemstar's board and chairman of News Corporation, Gemstar's largest shareholder, said: "Rich Battista is a talented, dedicated executive with operational and strategic skills. I am confident that under Rich, Gemstar-TV Guide will continue its turnaround and regain its momentum. Rich has deep relationships across the television industry, and a strong track record of identifying and capitalizing on the type of growth opportunities critical to delivering greater value to Gemstar-TV Guide's customers and shareholders."
Speaking to analysts in a conference call Rich Battista said: "Gemstar has an outstanding portfolio of assets and I believe that it's very well positioned at a time when, as we all know, consumers' television options are rapidly growing, and there is so much confusion about what programming to watch, and what new technologies mean for the viewing experience."
In addition to TV Guide Magazine, the largest selling weekly magazine in America, the company produces TV Guide Channel and provides TV Guide Interactive, an on-screen programme guide licensed to over a 160 cable operators.
Gemstar says that it is reviewing all of its strategic options.