Sky Interactive is using a content and workflow system from Tamblin to manage the presentation of its redesigned Sky Active channel.
The new Sky Active portal is based on the WTVML browser that allows applications to be defined using an XML markup language.
Producers are able to update content within the various sections of the interactive service using the web browser-based i-ZoneTV tool. A service builder component allows new services to be created from a library of pre-tested templates.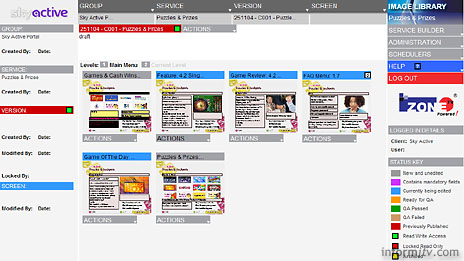 The system provides an accurate preview of pages in the interactive service from within a desktop web browser.
Multiple users are supported, and the workflow stage of individual elements is indicated through a colour coded status key.
The Tamblin system also manages hyperlinking between services both within the Sky Active channel and to external content partner sites.
Tamblin has been working with Sky for a number of years, supporting their own branded channels, including Sky One, Sky News, Sky Sports and Sky Movies, as well as those of other broadcasters such as Channel 4, Channel 5 and Disney Channel.
Work on the Sky Active portal did not actually begin until about ten weeks before launch. Sky Interactive built the WTVML templates and Tamblin turned these into what they term 'framelets' and integrated them into the service builder.
"The new-look Sky Active offer a personalised, on-demand experience in a
magazine-style format," said Gerry O'Sullivan, Sky Interactive's operations and design director. "By enabling us to update content quickly and efficiently, Tamblin's i-ZoneTV supports our drive to increase usage and frequency among the Sky Active user base."
"This is a significant step forward, positively changing the way broadcasters produce and manage interactive TV applications," added Tamblin's Stuart Waite.
Speaking to informitv he said that the Sky Active Channel is the biggest project that they have delivered to date: "The extensive work we have done with Sky Interactive in the past made the process of delivering Sky Active much easier – without that experience of working with their teams and technology we would never have been able to do it in such a short time frame."
Sky Active has also launched a new web site to support its interactive television service. The web site carries through the look and feel of the new television portal.