The Interactive TV Show Europe 2004 brought together a high quality international audience in Barcelona to discuss the emerging interactive television landscape in both Europe and the US.
Host Shelly Palmer opened the conference with the customary annual prediction: "This is the year of interactive television".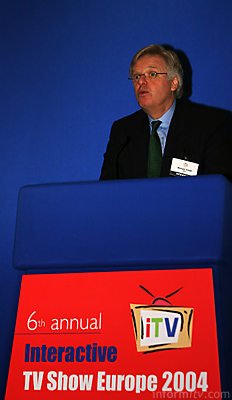 This was followed by the keynote speech from BBC Chairman Michael Grade, who made two predictions about the conference: firstly that there would be many predictions about the way that technology will develop; and secondly that most of them will be wrong.
He argued that technology is only a means to an end and that is the provision of great content. Technology ultimately just provides another distribution channel.
Using the BBC's interactive Olympics service as an example, he suggested that convergence was not about a single integrated device, but tailoring content for multiple devices.
He also formally announced launch of Ten Extra, an interactive supplement to the flagship 10 O'Clock News, developed in conjunction with independent interactive production company Two Way TV, and he reinforced the BBC's commitment to working more closely with the interactive TV industry.
Between sessions there was an opportunity for an interactive vote, although this generally had nothing to do with the preceding item, perhaps illustrating that simply adding an audience vote does not in itself make an interactive show. However we did learn that 71% of the delegates were attending the conference for the first time and that a similar number thought that more should be done to help interactive television services mature and develop.
European view
In this European conference, it was interesting to observe the differences between national markets. France was arguably first in the field in Europe, but while it has pioneered in many areas, take-up has not been as significant as in the UK. In Germany, relatively low use of terrestrial television enabled an early switch-off of analogue in Berlin, but has prompted the question whether terrestrial television is even necessary. The situation in Spain remains stagnant, while in Italy, government subsidy has led to a dramatic development of the market at comparatively low cost.
In France there are more than 45 interactive services on CanalSatellite, according to Michael Gass, who is responsible for interactive at CanalPlus. More than 90% of subscribers are using at least one interactive service, 60% use interactive services on a regular basis, more than 25% every week. Satisfaction in surveys is high at between 75-85%. Interactivity is seen as a very useful complement to channels by 62%, and 45% rate it as an essential element. Interactive subscribers have a churn rate 50% lower than non-interactive subscribers, and interactive services create value for the platform even if they do not generate significant direct revenue.
As not all subscribers have a return path connected, text messaging is seen as particularly important, as it provides a billing mechanism and enables individuals to be targeted, rather than rather than households or families. CanalSatellite is implementing SMS as a return path on all its ITV applications, enabling text messages to be sent both to and from television. The group is also moving to a multiplatform strategy, unifying the back office management across satellite, cable and broadband platforms, to minimise the technical costs and simplify the commercial relationship, addressing almost three million subscribers in total.
With TPS serving 1.3 million households, interactive services can be received by around a fifth of the population in France. This number could rise in 2005 with the launch of digital terrestrial television.
Alex Mulins of Retevision spoke of the challenges facing digital terrestrial television in Spain, where the market had not recovered from its previous collapse. He observed that terrestrial television plays a social role and requires special attention from the public authorities. He also described some of the issues involved in operating in a horizontal market, but said that it was now at least possible to find set-top boxes with MHP in the shops.
Dr Dirk Kleine of Pro Seiben said that although the number of MHP boxes deployed in Germany was currently very small, he expected the developments to be around MHP and DSL broadband, in particular with hybrid boxes combining DSL and digital television. He said there was a current fashion for what they term 'call TV', a form of telephone response television that did not require interactive receivers. There was also interest in a new remote control device dubbed 'Betty' which features a built in text display and does not need a new television or set-top box.
The situation is perhaps most interesting in Italy, where Angelo Pettazi of Mediaset said "digital terrestrial television is emerging as a free to air interactive platform for the mass market," with more than 600,000 set-top boxes sold in only eight months, with projections of a million by the end of the year. He cited success factors as the presence of free interactive content from the beginning with effective marketing, combined with a significant government subsidy resulting in low cost MHP set-top boxes selling successfully. As a result people are apparently standing in line in shops to buy MHP set-top boxes.
MHP
There followed a panel discussion on MHP, chaired by Peter MacAvock of the DVB. Represented on the panel were OpenTV and NDS, both of whom have proprietary middleware, while both companies also support MHP. John Tinsman of OpenTV said that the case for MHP had been damaged by the debate over whether it should be mandated. He argued that different markets have different requirements for price and performance. He also noted that less than half of OpenTV's revenue comes from middleware, saying "the most important thing for us is to grow the audience for interactivity".
Pointing to the encouraging deployments in Italy, Cédric Monnier of NDS said "MHP is an enabler, a cornerstone," noting that it is potentially "less expensive to broadcast an MHP application." However, he conceded that some customers might not want something standard that could be used by their competitors, preferring a proprietary route to provide differentiation.
It was significant that there appeared to be general support for MHP, and important that it was accorded time for discussion, as it remains an issue not just for the technologists, but of central importance to the entire interactive community.
UK scene
Emma Somerville from the BBC, virtually the only woman speaker in an audience that was not exclusively male, offered an informative overview of the insight gained by the BBC from its extensive experience with enhanced television with the message that interactive television is now mainstream.
Much of her presentation was familiar from other recent conferences, but of particular interest was a categorisation of four main types of interactive programme. At one level, programmes can be divided between Live and Pre-recorded, with live events such as the Olympics, providing a choice of parallel narratives taking place simultaneously, while pre-recorded near video-on-demand services can provide more of a DVD type of experience, offering additional detail or a different perspective on the main narrative, such as a recent commemoration of the D-Day landings. At another level, programmes can provide direct audience Participation, as with the Test the Nation interactive quiz format, or Enhancement through the provision of additional layers of presentation, as in an annotated interpretation of a Mozart performance.
Each of these classes of service may be extended in different ways. In the case of Live events, so successfully exploited in sport, there is the potential to extend the model to other genres, while Pre-recorded services may be particularly suitable to on-demand environments. With Participation television, there is an opportunity to add personalisation, particularly through the use of multiple platforms, including online and mobile. For the Enhancement of linear programmes there is the potential to use graphical innovation to add value, as an extension of more basic captions.
This formal understanding of the medium provides an opportunity to extend experimentation in a more structured manner that can guide the commissioning process, and incidentally provide an indication of where to pitch proposals.
According to Emma Somerville, the guiding principles, for the BBC at least, are Universality and Added Value. In seeking Universality, the intent is to provide interactivity for all, across a range of genres, while playing to the strengths of each platform. In delivering Added Value there is a requirement to understand different audience need states, deliver real audience benefits, and recognise that success is not necessarily measured simply in raw numbers.
US
Mike Bloxham, an English consultant now heading an academic research department in America, noted that while the US has been talking about interactive television for decades (he quoted a 1990 Newsweek article saying 'Now interactive may finally take off'), it currently leads in digital video recorders and video on demand. As a result, he saw "real behavioural change" with an impact demonstrating the "early stages of the erosion of the very models that define television itself". He said: "The future of interactive television may not be television as we think of it."
In a provocative warning to programme schedulers and programme makers, Mike said the concept of a schedule is diminishing, while reality producers are not so much making television as providing "call stimulation". He argued that "the future of interactive television may not be television as we think of it," with television being only one element of the digital home. Consequently, competition should not be considered only in terms of cable and satellite, but the competitive set includes telcos, computer and consumer electronics companies.
Keith Hindle of Fremantle has responsibility for their interactive business in North America, including American Idol, currently the largest interactive event in the world, and almost certainly the most successful "call stimulation" programme, with audience votes rising from 110 million for the first series to 360 million for the third. "We know this works," he said. "We know that people want to interact with TV show brands." The implication for a distributor is that they can roll out such formats in multiple countries. "In most countries the number of votes is higher than the population of the country. The opportunities for us are enormous." Contrary to the perception of some more precious producers, the cultural differences seem to be less significant between territories than the middleware, and according to Keith "It doesn't matter what the technology is – it's the game play". With mobile telephony providing an almost ubiquitous standard billing mechanism, it may not be necessary to deal with the middleware differences at all, but whether this constitutes interactive television is another matter.
In the US, according to Rick Mandler of ABC and The Walt Disney Company, "There are clearly signs that interactivity is back on the radar screen for operators". He said the market for programme synchronous enhancements is currently relatively modest. Video on demand is the main focus and this has been a success "but not a home run", particularly since a domestic digital video recorder captures many of the consumer advantages. However, with both Echostar and DIRECTV gearing up for interactivity, his message was "watch this space".
With ABC, Rick has largely focussed on providing a dual screen experience that combines television and the web. "In some ways two-screen offers a more robust experience" for programme synchronous interaction. "You can only do that right now with a PC experience on the internet." At least that is currently the case in the US. He explained that a persistent internet 'socket' connection allowed content to be pushed synchronously to each user, although it is not clear how far such an approach might scale beyond the 50,000 or so cited for one particular show. With the support of Microsoft, a Media Center application allows web content to be seamlessly integrated the broadcast programme on a single screen, resulting in an ABC AFI Enhanced Television workshop production winning an Emmy award. Watching the impressive DVD showreel submission on the big screen, the audience may have been beginning to ponder the propriety of the close association between the awarding organisation and those involved in the project when the hotel lights went out, leaving Rick illuminated only by his laptop computer. Perhaps this is an omen for the future of television.
New broadcasters
Neil MacDonald of DITG, an innovative independent provider of interactive services in the UK, cited his company as an example of a new breed of broadcaster, providing transaction based television centred mainly on gaming and gambling. For their virtual channels, traditional television serves more as a gateway to an interactive experience. The company now uses multiple conventional channels to drive traffic to their mosaic service, tapping off demographics from different parts of the electronic programme guide. While there is strict regulation of the linear channels, this becomes less restrictive once a viewer has elected to join an interactive service, with plenty more gambling opportunities to come, much to the amazement of those with stricter regulatory regimes. Significantly, even though DITG is a return path provider to other broadcasters, Neil endorsed the view that "mobile is the transaction medium of choice". Ultimately, he said, "It's still television – it must work on, and as television".
There followed a demonstration of "Hot content" from an Israeli company developing material for Playboy. While it is important to acknowledge that the adult market drives significant revenue, including services provided by DITG, the audience was clearly uncomfortable at the gratuitously extended clip shown. 'Can you tell what my tits look like?' ran the coy commentary apparently designed to appeal to pubescent boys. Interestingly, viewers were encouraged to 'Just press the green button' to enter the service, suggesting that standardisation still has a way to go.
Liberty
Tony Werner, chief technology officer of Liberty Media gave a seminal presentation, suggesting that storage and broadband will conspire to fundamentally change television. "What would television look like if broadband and storage were essentially free?" he asked.
Describing himself as a "long-term interactive television advocate" since the mid 1980s, he observed that personal video recorders "are not a fad" and real-time viewing is eroding, while internet protocol television and the increasing penetration of broadband were growing in importance. Hypothesising "What would television look like if broadband and storage were essentially free?" he cautioned that technologists "always tend to over predict the near term and under predict the long term".
Extrapolating 'Moore's Law' – as is customary on such occasions – he suggested that by 2010 a 60TB hard drive will cost less than $6,000 and will be capable of storing virtually everything you have ever watched on television. Given that Sony have just introduced a device in Japan that can store seven channels for a week, albeit in a box the size of a storage heater, such a prediction may not be that far out.
Sky view
Robert Leach, Head of Interactive Services at BSkyB said that "interactive advertising in the UK is massive now," with more broadcasters running both interactive television services and interactive advertising. In one month 60% of the last in break commercials on Sky channels were interactive, a total of 14,000 spots. Yet he admitted "research has not kept pace," adding that "interactivity has historically been built on response research and response became the interactive currency". While demonstrating that Sky has an impressive volume of detailed research on response rates, which range from near zero to around 1% of viewers, he suggested the industry "needs to move away from a single metric by which a campaign is judged".
While the Zip Television consortium has been very vocal about the opportunities for accountable advertising based on return path usage and traditional consumer research, Sky is setting up its own SkyView panel of 20,000 homes, possibly the largest viewing panel in the world. This will measure every remote control command through the set-top box, associated with subscriber data and potentially enabling correlation with TNS Superpanel homes of consumer purchases to create a potent research tool: "It's the single biggest thing that will happen in interactive advertising in the UK".
Interactive advertising
One implication of this is that advertisers will not be obliged to use comparatively crude direct response approaches to measure the effectiveness of their interactive commercials. Robert Leach spoke of a "massive move towards branding – that's what television was made for". Echoing Nigel Bogle of agency Bartle Bogle Hegarty, he said "It's no longer the age of interruption. It's now the age of engagement".
There followed a case study on the interactive advertising success story of the Sonicare electronic toothbrush presented by David Hughes of Philips who is clearly enthusiastic about his product. According to follow-up consumer research, 400,000 viewers on average spent an additional 2.5 minutes engaging with the brand, producing 35,000 sales leads more cost-effectively than buying a list of names and addresses.
According to John Murray of PHDiQ, some 340,000 children played an inane looking game promoting a kids drink, while perhaps more surprisingly the game was played by an additional 240,000 who were over 16 years old.
Ashley Wirasinha of Warner Bros cited a simple example in which 15% of those that saw a commercial for a feature film pressed red and watched the full trailer.
Ian Armstrong of Honda presented a case study of the first Zip TV campaign with research that suggested the interactive element a very positive effect on message recall and brand awareness. He went on to give an interactive demonstration of a second campaign, using Emuse Modelstream Preview.
In the final panel session that followed, there was no apparent tension between Sky and Zip TV and it later became evident that Sky had finally agreed to enable Zip campaigns to launch off Sky channels. According to Robert Leach "It's absolutely essential that there is not just one provider of interactive television advertising. Competition just pushes the bar higher". Andrew Howells of Zip said "we're an extension of the Sky sales force in many respects". As far as Robert Leach is concerned "our real business is selling airtime, not applications".