Space Odyssey is an interactive space walk through the solar system, following in the footsteps of Walking with Dinosaurs and Walking with Beasts.
From the makers of Walking with Dinosaurs, one of the most successful factual programmes ever produced, Space Odyssey: Voyage to the Planets is a drama-documentary seen through the eyes of five astronauts on a six-year mission to explore the solar system.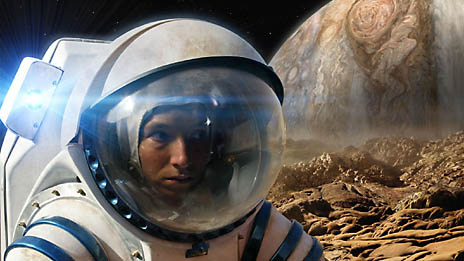 The flagship two-part programme, a co-production between the BBC, Discovery Channel and ProSieben, will be supported by an interactive service on the BBC.
Viewers can press the red button on their remote control to access the Mission Report, featuring pop-up facts that will highlight the background research from which the series was made and providing extra information and context for each scene.
If viewers have further questions they can submit them via email, text message or through their satellite set-top box over the telephone return path. Selected questions will be answered in a special live broadcast from the European Space Agency Mission Control, where some of the series was filmed.