At IBC this year it was evident that interactive services are becoming more mainstream and that television is in a state of transition that will significantly change its economic model.
Security and digital rights management were key themes of the conference, as subscription shows signs of overtaking advertising as the primary form of revenue.
Informed bewilderment
John Naughton, the online and former television columnist of the London Observer commented in one conference panel that the television industry, largely in denial about confronting change, is in a state of 'informed bewilderment'. He argues that the dominance of broadcast television is eroding, but rather than talking apocalyptically, we should regard the media as a complex ecology in which various modes shift their balance.
Changing channels
If there is one image that should remain at the forefront of the minds of technologists and television executives, it was from a video presented by Jon Drori of the UK Department of Media, Culture and Sport, and former head of commissioning for BBC Online. It featured members of his family being asked about the array of buttons on various remote controls, the functions of which appeared to remain a mystery, save those for changing channels and adjusting the sound. The clear message was that the usability of products and services remains of paramount importance.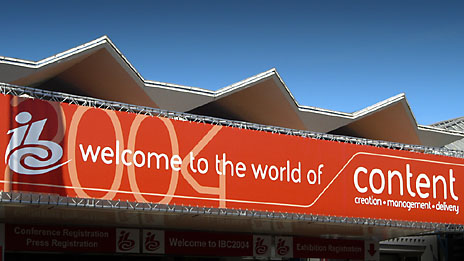 Walking around the exhibition floor it was clear that new forms of digital delivery will have a profound impact upon television.
IPTV
The use of internet protocols to deliver audio and video was a dominant theme of the exhibition. MicrosoftTV was a prominent presence, significantly demonstrating consumer benefits such as rapid channel changing, picture in picture navigation and seamlessly integrated recording and video on demand that provide an incrementally better television experience. The use of internet protocol as a carrier also offers digital cable operators and broadband providers a powerful triple play of video, voice and data that potentially opens the way to much richer interactive and video on demand services.
HDTV
High definition television was another major trend, although not perhaps as prominent as earlier this year at NAB in America, where HDTV is already established. The European Broadcasting Union recently recommended a 720 line standard for Europe, preferring progressive scanning over interlaced formats. Ironically, Europe's first commercial high definition service uses the 1920×1080 interlaced format, which is also more than likely to be adopted by Sky when it launches its services in 2006, although it will probably use a more efficient compression scheme than MPEG-2.
PVR
Personal video recorders are beginning to embrace interactivity, with OpenTV among those demonstrating early prototypes. However, it is clear that any ability to record many of the currently available interactive services introduces a number of issues that will need to be addressed by applications, some of which were outlined in a conference paper from Philips. Nevertheless, the availability of home storage will greatly increase the scope of interactivity and allow some forms of interactive service to be delivered more efficiently. With multi-room services it will also become possible to pause a programme in one room and resume viewing elsewhere on another device, as demonstrated by Abe Peled of NDS in his keynote conference presentation.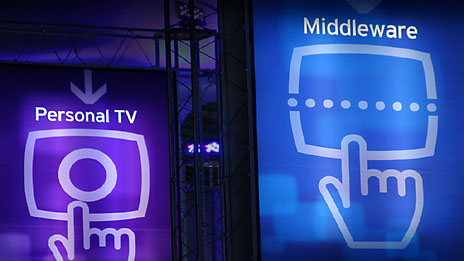 ITV
The Interactive TV Zone attracted a steady stream of visitors, although many other relevant stands were scattered around the eleven halls of exhibits. Among the most sophisticated of the interactive authoring systems on demonstration was Ensequence on-Q, showing a beta release of version 3 of the software. Although the software has been evaluated by broadcasters, the company is expected to announce the first commercial service developed using the tool. Elsewhere Tamblin were showing their i-ZoneTV system for managing and previewing the editorial content of interactive services.
MHP
It is evident that the MHP Multimedia Home Platform is becoming more significant in Europe as an open standard for interactive services, although it still lacks widespread adoption. The cost of MHP receivers remains high relative to basic channel zapper boxes. Manufacturers need compelling services to drive volume and bring down prices, while broadcasters await the availability of more competitive products. However, it was notable that the BBC's Research and Development department is already beginning to evaluate the potential for efficiently simulcasting MHP and MHEG-5 services. Ultimately, MHP, its close cousin in OCAP, and commercial middleware such as MediaHighway Advanced will begin to offer an overlap in communality that will bring economies of scale to interactive production. Ironically, the UK, which has led the development of interactivity, could face the legacy of being an early adopter and fall behind as the rest of the world learns from the experience.