A UK company is launching the smallest available internet protocol set-top box with integral personal video recorder.
The device measures just 184 x 240 x 56mm and includes an 80Gb hard disk capable of storing around 40 hours of programming.
Amino Communications, based in Cambridge, England, has developed the device in response to rising demand reported by US and European telecommunications companies for personal video recorder functionality.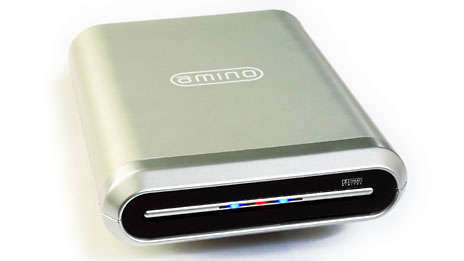 Internet protocol television or IPTV enables video-on-demand and interactive services to be delivered over broadband telephone networks.
The Amino product also supports content downloading for subsequent playback and will allow recorded material to be streamed to other set-top devices over a home network.
It comes with Linux operating system and a Java based PVR application providing standard features such as pause live television, instant record and replay and scheduled recording. Up to five steams can be read or written simultaneously, depending on the bit-rate at which the streams are encoded.
The new device will support leading conditional access systems and rights management software to address content owners concern about protecting their assets from illicit copying.
The product will be launched at the IBC trade show and is initially targeted at the US market. A European version will be available early in 2005.