More than six million satellite viewers used the BBC's interactive Olympic services in the first week of the games.
The record-breaking figures show that over half of the available audience used the red button on their remote control to gain access to the extended interactive coverage.
6.13 million people used the satellite service for more than one minute in the first week of the Olympics.
4.89m or 80% of those who pressed the red button used the service for more than three minutes. 58% stayed for more than 15 minutes and 46% remained with the interactive service for more than 25 minutes.
The previous highest figure was during this year's Wimbledon when 4.1 million people used the interactive service. The Commonwealth Games in 2002 attracted 3.4 million interactive users.
Multiscreen coverage
For the Olympics a new look interactive multiscreen application provides digital satellite and cable viewers with access to a main window with four additional preview panes at the right of the screen.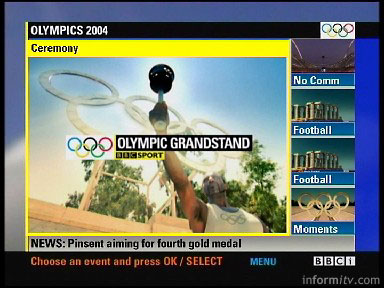 On Freeview digital terrestrial television, viewers are able to access two additional events through an interactive menu. Data for terrestrial and cable television have not been released.
BBC Sport's Andrew Thompson, Head of New Media, Sports News and Development, said: "These are fantastic figures and naturally we are delighted.
"The Olympics are perfect for interactive television because there are so many events happening at the same time.
"Before we had the interactive option, hundreds of hours of footage disappeared down a black hole. But now with interactive television, viewers have up to four extra sports to choose from and, judging by the initial figures, they are taking full advantage of that.
"These figures, which are only from the digital satellite service, are a tribute to our commitment to deliver the Olympics to viewers so they can enjoy the Games wherever and however they want."