The EchoStar DISH Network is teaming up with NBC to provide the first major interactive multiscreen application to be seen in the United States. Launching with the 2004 Summer Olympics, the showcase service will allow viewers to preview coverage across six channels.
The showcase will allow users to monitor up to six channels on a single television screen and select coverage to view in normal full-screen format.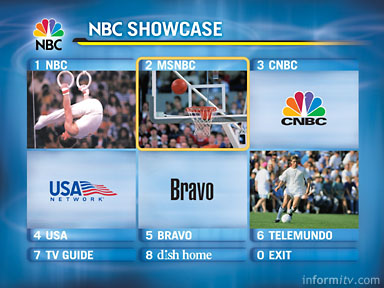 Five of the six showcase windows will air real-time coverage from MSNBC, CNBC, USA, Bravo and Telemundo during broadcasts. As many as three NBC networks will simultaneously provide coverage during each day of the Olympics. The sixth window will show NBC Network Daily Olympic highlights and a preview of the upcoming Olympic events that will be carried by the local NBC Network affiliate.
The NBC showcase lets DISH Network customers quickly preview on a single screen what events are on each network and then watch on a full screen whichever channel or competition interests them most," said Michael Schwimmer, EchoStar's executive vice president of Programming and Marketing. "The showcase will be an extraordinary addition to the TV marketplace and serves as a platform for DISH Network's advanced 23-channel ITV offering."
"This summer, we're proud to be able to deliver unprecedented coverage of the Olympics," said Gary Zenkel, executive vice president, NBC Olympics. "Our partnership with DISH Network will allow 9 million of their customers to easily navigate through this wide array of Olympic and NBC Universal options."
The service will be available to more than 9 million DISH Network customers with access to the dish home interactive service. It can be accessed by pressing select when a showcase banner is shown on any one of the NBC channels or directly through the DISH Network channel.
The showcase channel was built for EchoStar by OpenTV and will be available to a variety of OpenTV enabled standard definition receivers and digital video recorder models.
All five showcase networks will also be provided to all DISH Network's customers during the 2004 Summer Olympics, regardless of the programming package to which they subscribe and even if they are unable to access the dish home service.
The Showcase channel is the first large scale instance of the type of multiscreen service that has already proved very popular in the UK and Europe. The BBC will be providing a similar multiscreen interactive service in the UK, with dedicated Olympics coverage and live data.
While all eyes have been on EchoStar competitor DIRECTV, in anticipation of the launch of interactive services similar to those seen on BSkyB in the UK, the DISH Network has taken the opportunity of the Olympics to promote its interactive offering.
The reception to new high profile interactive services on the two satellite systems will be the first real test of interactivity in the competitive US television market.