The BBC, celebrating fifty years of Television News, has announced an interactive news service to be launched later in the year.

Ten O'Clock News Extra will be available on digital satellite, terrestrial and cable television and will provide an added depth and context to the news.
Viewers will be able to get behind the day's events, with longer interviews, extra footage and background information on up to three of the day's stories.
The additional material will be provided by the Ten O'Clock News team.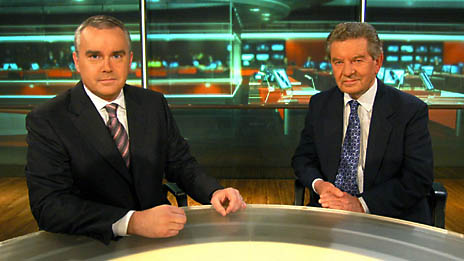 To commemorate fifty years of BBC television news, Huw Edwards, presenter of the BBC Ten O'Clock News was joined by Richard Baker who introduced the first BBC news bulletin fifty years ago. It was read by John Snagge out of vision. Kenneth Kendal was the first BBC newsreader to appear on screen in 1955.
The announcement of the new interactive service behind the BBC's flagship news programme co-incided with a new on-air campaign to promote the existing BBCi interactive television news application.
The new service will launch in the autumn and will be available every Monday to Friday between 10.00 and 10.45pm.
Director of BBC News, Richard Sambrook said "The BBC News audience consistently tell us that they want even more information on the day's events. Ten O'Clock News Extra will provide that platform for added depth and context to the bulletin and will help drive a new audience towards our interactive services."
"This is a hugely exciting innovation for BBC News," said Richard Deverell, Head of BBC News Interactive. "It is the world's first interactive daily TV news bulletin and will help viewers understand the top news stories by providing extra background information in a visually rich and engaging format."
The application is being developed for the BBC by Two-Way TV.