The Amazon Fire TV Cube is an Ultra HD streaming media player with Alexa voice control that provides hands free operation of compatible televisions, cable or satellite boxes and associated devices. It looks like a relatively simple way to take control of the television. The perfect present for all the family. The message for traditional players must be to beware of geeks bearing gifts.

Essentially the latest Amazon device combines a Fire TV media player and an Echo speaker. It supports 4K Ultra HD video at 60 frames per second with HDR10 high dynamic range and Dolby Atmos sound.
The Fire TV Cube uses infrared, cloud-based protocols and an HDMI connection to control compatible devices.
The video connection uses HDMI-CEC or Consumer Electronics Control, which in theory allows control of various compatible connected devices. Many manufacturers market this capability under different names.
There is also a multidirectional infrared emitter for other devices, although such methods have tended to be rather unreliable.
With Alexa technology, the Fire TV Cube allows users to turn their television on or off, change the volume, switch to different inputs or change channels using only voice commands.
It can apparently respond to commands like "Alexa, launch Netflix", "Alexa, tune to CBS", or "Alexa, find dramas".
"We believe voice makes it easier for customers to control their entertainment systems and watch the TV and movies they care about," said Marc Whitten, the vice president of Fire TV at Amazon.
Many apps, including Netflix, Hulu, CBS All Access, SHOWTIME, and NBC have integrated with Alexa, which will allow users to browse, search, and change channels within supported apps.
The Fire TV Cube has eight microphones that are used to suppress noise, reverberation, the sound currently playing, and competing speech to pick up commands clearly.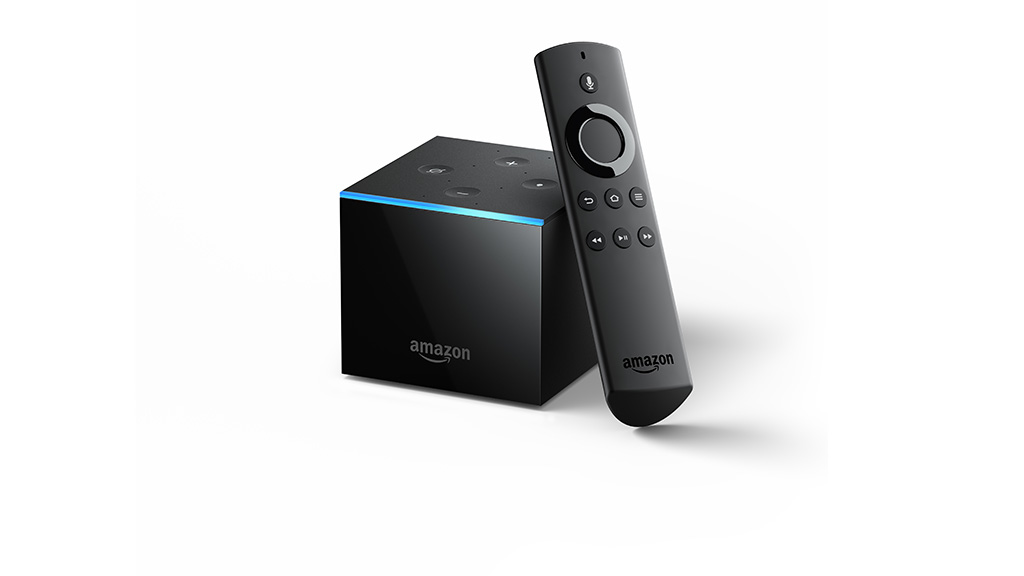 It also comes with a separate voice enabled remote control. Just in case.
Amazon says Fire TV Cube is compatible with set-top boxes from service providers including Comcast, DISH, and DIRECTV, covering more than 90% of households in the United States with a cable or satellite subscription.
Fire TV Cube will be available in the United States for a list price of $119.99. There is no news yet of availability in the United Kingdom or elsewhere.
There was much excitement that Amazon had picked up rights to some Premiere League football matches in the United Kingdom. In practice these only extend to 10 matches from one public holiday and 10 from the Boxing Day fixtures at Christmas over three seasons. These were among two packages created by the Premiere League to attract the interest of online video companies.
So it may be a while before Amazon offers comprehensive football coverage. In the meantime it is using its Alexa technology to prise open the traditional television viewing experience.