The Edinburgh International Television Festival, sponsored by The Guardian and 'powered by' YouTube, once again featured the convergence of television and the internet. It is less than a decade since the first YouTube video of elephants at San Diego Zoo, which has now been watched by nearly 16 million people worldwide. So far a rather smaller number has viewed The James MacTaggart Memorial Lecture by David Abraham, calling for the preservation of public service broadcasting. The view from the festival is that the future of television is neither doomed, nor is it safe, as Brent MacGregor reports.

The session on 'How to make money out of YouTube' was packed, with many sitting in the aisles. A quick poll of the audience revealed that more than half were not just users, but had actually set up YouTube channels.
YouTube also featured heavily in the later session 'How do you do digital?' Perhaps this attraction arises because of the apparent similarity to broadcast television. It is easy to start your own 'channel' and you can see content you recognise from broadcast. Several panellists pointed to brand extension as the best way to use the platform. Freemantle now has 150 YouTube channels set up to publicise its broadcast shows.
However, YouTube is more than a place for clips relating to mainstream television. It has its own talent and stars, with literally millions of viewers, and their own specialist agents. It is also a world with a developed infrastructure, including its own bible, the Creator Play Book and a London production base called YouTube Space. When a hard-headed delegate wanted to know how much money these starlets made the question wasn't answered.
The producers advised delegates that a different mindset is required, even a different production grammar. It is important, they were told, to think social network not alternative broadcast platform. They were advised to enter into a dialogue with the audience. The prize for this flexibility is reaching an elusive demographic who apparently do not watch broadcast television. Two thirds of the younger audience who watch YouTube do so on mobile or tablet. The top-line advice was to invest in the long term.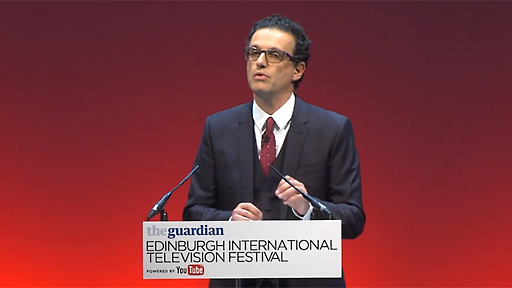 Clearly there are people still watching scheduled television and many are tweeting about it while they do so, providing massive data for real time analytics. Four million comments were made during The Brit Awards, at a rate of 78,000 a minute.
Some shows have their own Twitter team contributing to, as well as monitoring, the flow. When Simon Cowell was egged during Britain's Got Talent, the programme tweeted that they were making omelettes during the ad break. Twitter has become the new water cooler. The advice here was to see audience behaviour changing with the digital and to use it to change with them.
The message from the session on 'New platforms, new opportunities' was that despite 'a seeming waterfall of innovation' not much is actually changing. Consultant Nigel Walley pointed out that only 2% of BBC viewing is on iPlayer. Meanwhile on ITV, the success of programmes like Broadchurch showed how good old-fashioned well-crafted television could use catch up and social media to grow its primary broadcast audience as the series progressed. He suggested that this was the model to follow, although he said television is years behind retail and mobile in using big data properly.
The Future of TV is Now session started with the provocation 'Is linear TV dying? Ed Vaizey, the Minister for Culture, Communications and Creative Industries was clear there was life left in television and others agreed that its demise was overestimated because linear was adapting. What was at risk, it was decided, was scheduled television.
Sharon Stotts, from the Ernst&Young Act or React report team was less upbeat, noting that the viewing by the elusive 16-34 demographic was down by 12% in the United Kingdom.
The brands are good and exports are excellent, from Strictly to Sherlock, but the world is indeed changing, and online is more than a tool for marketing linear output. The audience now has a voice and they need to be listened to.
There are warning signs but there is an awareness of the strengths of traditional television, which is neither doomed not is it safe. It remains, as ever, fascinating.