Television manufacturers need to find new ways to persuade people to upgrade their sets and pay a premium for the privilege. At the annual IFA consumer electronics show in Berlin several were exhibiting massive 84-inch screens with four times the resolution of high-definition television. These 4KTV displays may be the future but with little native 4K material available it may be some time before they become mainstream.
LG first showed its 84-inch screen in January at CES in Las Vegas. At the IFA show in Berlin, LG, Sony and Toshiba all showed 84 inch 4KTVs and some could be in the shops for Christmas, although they are likely to cost as much as a car at launch — just under £20,000 in the case of the Sony model.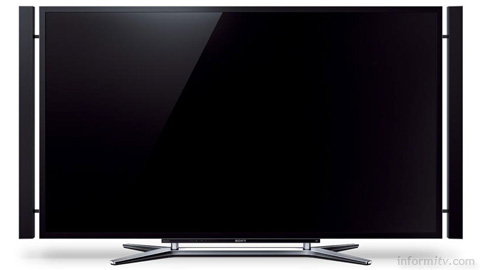 "This new model redefines what consumers should expect from their television's performance," said Brian Siegel, the vice president of Sony Electronics TV Group.
So far attempts to persuade punters of the benefits of stereoscopic 3D television have failed dismally and while they have to watch wearing dark glasses it remains a curiosity.
One benefit of the higher resolution of these screens is that it can allow passive glasses to view stereoscopic material in full high definition, although most 3D television transmissions are in any case reduced in resolution.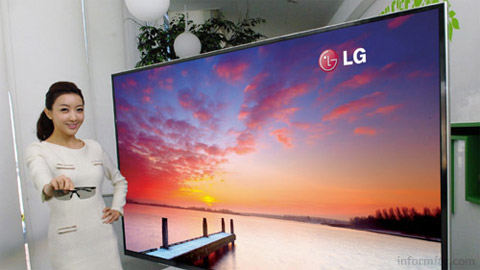 The processing power available to these screens can simulate stereoscopic 3D from 2D sources, with variable results. A further application is to allow players of head to head games to each see different images on the same screen, a feature that Sony calls SimulView.
The ability to watch 3D television without glasses seems more promising, which is what Toshiba demonstrated. This depends on using an array of tiny lenses in front of the screen to deliver different images the left and right eyes in various viewing zones. Built in cameras and face tracking technology can be used to guide people into the best position. Viewing is limited to specific zones in front of the screen, which may not suit how everyone wants to watch television.
The logical rationale for 4K resolution is that this is becoming a standard mastering format for movie material. Sony points out that it has been involved in building the 4K creation and viewing environment in the professional field, from its CineAlta cameras to digital projectors in cinemas. A number of broadcast shows are now beginning to shoot in 4K.
Broadcasters, which have only recently invested in high-definition are understandably reluctant to a further step-change upgrade of their own infrastructure for the benefit of a small number of viewers. However, we can expect pay television service providers to pioneer delivery of 4K movies once the screens are available at affordable prices.
With little 4K material currently commercially available for consumers, manufacturers are pointing to the ability to upscale existing high-definition material, in much the way that a DVD can benefit from being viewed on a high-definition display.
They also note that you can sit closer to the screen without being able to see the individual pixels. This is not necessarily as silly as it sounds. It is often suggested that you need a screen of a certain size to notice the difference between high-definition and a 4K display. That depends on viewing distance. A 4K screen will sustain close inspection, which is one of the ways we tend to assess visual quality. Just observe people inspecting televisions in shops, or viewing pictures in galleries.
Furthermore, with displays this large, it may not be practical to sit at the viewing distance determined by picture height traditionally associated with smaller screens. Even those able to afford such enormous screens may be constrained by the size of rooms necessary to accommodate them.
Of course a large screen viewed closer fills more of the visual field, which provides a greater impression of reality. Higher definition, even if achieved through interpolation, provides more of the non-stereoscopic depth cues, which can also contribute to an enhanced sense of realism, and may arguably negate the need for other 3D trickery.
Display manufacturers also point out that you will be able to view high-resolution digital photographs on these large screens, enabling virtually life-size images of family and friends. Again, this is sensible, since most domestic digital cameras considerably exceed the two megapixels of high-definition television. In this context the eight megapixels of a 3840×2160 4K display do not seem that outrageous.
"The 4K display market is still in its infancy but it was important for LG to claim a stake in this space," said Havis Kwon, President and CEO of LG Electronics Home Entertainment Company.
These large 4K screens are currently priced for professionals and playboys. Initial applications for many of these screens will include industrial installations, from boardrooms to digital signage. The cost can be expected to fall with volume and before long everyone will want one.
DisplaySearch forecasts shipments of 4K TVs will rise to over 4 million units a year by 2016. That remains a relatively small proportion of all televisions shipped, but can be expected to rise.
If 4K is not enough for you, Panasonic was demonstrating a 145-inch 8K Super Hi-Vision screen. But as if to demonstrate that size isn't everything, it was also showing a 20-inch 4K screen.
All of which confirms our view that resolutions of 4K and higher will eventually become the norm.