Free, a subsidiary of the Illiad Group, launched its first triple-play Freebox in France in 2002 at just under 30 euros a month. Free is now fighting back against Orange, SFR and Bouygues Telecom in the competitive French broadband market with a feature-filled designer device. Its latest box, the Freebox Revolution V6, offers an outstanding range of features for the same monthly charge, including a Blu-ray player. This will be one to watch.
The Freebox Revolution is not one but two boxes: a player and a server. The player includes a Blu-ray disc player. The hard disk storage is sensibly located in the server, which acts as a network gateway. The two devices can be stacked, or sited separately and connected over mains wiring using supplied Freeplug Powerline adapters. Everything is preconfigured to work out of the box.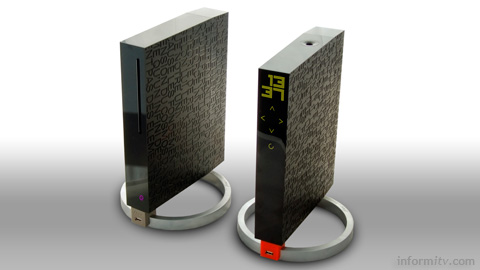 The Freebox server is compatible with ADSL broadband over a telephone line at up to 28 megabits per second, or a fibre connection at up to 100Mbps. There is built-in 802.11n WiFi wireless networking and a four-port Gigabit Ethernet hub.
It comes with 250 gigabytes of Network Attached Storage with UPnP support, which can be accessed by other devices on the network, or outside the home. An additional external hard disk can also be attached. The front panel includes a 128 pixel OLED display that can show the time.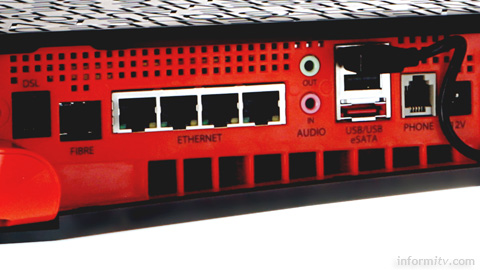 The Freebox Player runs on Linux and features a powerful Intel Atom CE4100 Sodaville processor, the same as specified for Google TV and the Boxee box. There is a built-in Blu-ray player, which can also play CD and DVD discs, as well as a digital terrestrial television receiver.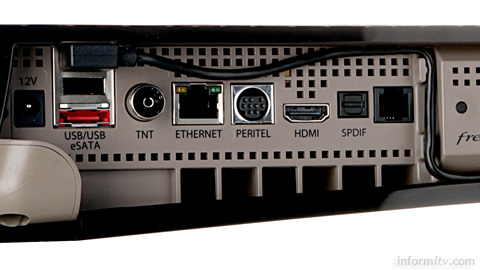 In addition to the elegant user interface, a full Webkit web browser is provided, which can be navigated using an included motion sensitive radiofrequency remote control with accelerometer and triple-axis gyroscope. It comes with a gamepad remote control in addition and it is also possible to connect a keyboard and mouse if required.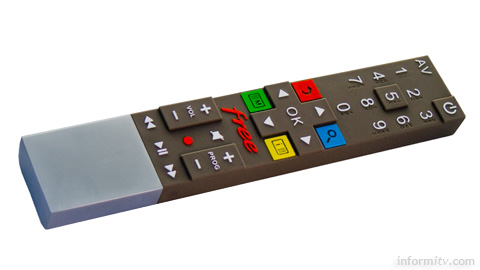 Freebox offers access to over 400 television channels, with 185 included in the package, and a comprehensive video-on-demand and catch-up television platform. There is also support for automatic download of files to the server over HTTP, FTP and torrent protocols. Downloadable applications will be available through the Freestore app store. An Apple iPhone and iPad application will be available to allow recordings to be set remotely.
The Freebox server has an integrated DECT base station that can connect up to 8 wireless telephone handsets. Free calls to landlines in over a hundred countries and calls to French mobile phones are included.
The service is fully supported, with guaranteed on-site home assistance from a technician within 10 working hours in areas that cover 70% of French households.
The Freebox Revolution was launched in Paris by Xavier Niel, the co-founder of Free and a hands-on technologist as well as chief strategist of Illiad.
The industrial design is by Philippe Starck, who described it as both democratic and revolutionary. "It is democratic because in fact it is ridiculously inexpensive for what it offers."
The box is free to new subscribers, although they have to pay if they leave the service. Existing subscribers will pay €199.99, less €30 for each year they have been with Free.
The Freebox Revolution represents a return to innovation for Free in a competitive market. Bouygues Telecom has attracted subscribers through competitive quad play pricing, with which Free will be unable to compete until it launches its own mobile service. Unlike the SFR Neufbox Evolution, the new Freebox does not currently include an option for a femtocell home access point for mobile phones, although that could follow. Orange is meanwhile understood to be preparing its own next-generation box that will use the same Intel processor and promises to have an innovative gestural user interface.
For other broadband service providers aiming to offer a hybrid set-top box, and that includes partners in the YouView consortium in the United Kingdom, the Free Revolution sets an ambitious benchmark. No single feature is revolutionary, but the combination of capabilities is compelling.