Monsoon Multimedia is preparing to ship its Vulkano product, which combines the time-shifting and place-shifting features of multiple devices such as TiVo and Slingbox. Vulkano is the follow up to the HAVA product line, a lesser-known competitor to Slingbox. Monsoon is adopting an impressively open approach, but before long similar features will be integrated into set-top boxes and television displays.
When connected to a set-top box, Vulkano allows video to be viewed across Android, Blackberry, iPhone and iPad screens, as well on Macs, PC and the TV.
Vulkano will allow users to view television channels, videos and photos on whichever screen they wish, whenever they want.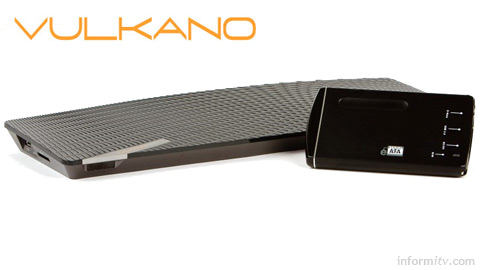 Freely downloadable applications will allow multiple users to watch and control any television channel available in the home by using a wired or wireless network connection from anywhere in the world. Users will be able to schedule a recording on the device through an included electronic programme guide and transfer it to watch on another screen. They can also view online video from YouTube on the television screen, and upgrades are promised to integrate with Google TV, Yahoo! Widgets, Netflix, Hulu and others in the future. Through Universal Plug and Play, users will be able to stream their own videos and photos from UPnP compatible smartphones, computers and cameras wirelessly on their living room television.
"The combination of mobile video recording on iPads or smartphones, viewing YouTube on big screen TV, DVR and Universal Plug and Play streaming changes the television and web video experience in ways never before imagined," said Colin Stiles, who is responsible for sales and marketing at Monsoon.
"We designed Vulkano from the ground up to replace single purpose solutions, such as TiVo, Roku, or Slingbox," said Steve Stone, chief technology officer at Monsoon. "In the coming months we will be pushing new apps to Vulkano owners for free so they can rest assured that this is the first and last product they'll need for all their television and internet media needs."
The Vulkano comes with 8 gigabytes or 16 gigabytes of SD card storage or an external hard drive up to 1 terabyte, at price points ranging from $259 to $379. It connects to external video sources through an analogue component or composite cable and can link to a wireless network through integrated WiFi capability.
Products like Vulkano promise to reduce the number of boxes that need to be connected to the television to provide time and place-shifting functions. In time these features may themselves be integrated in set-top boxes and network-connected televisions, allowing users to control them and access media stored anywhere on their home network using whatever screen they have to hand.