An estimated 3.4 million 3D TVs will be shipped in 2010 but research firm DisplaySearch expects the market to reach almost 43 million in 2014. That is an increase from 5% to 37% of all flat panel televisions sold. Yet that is modest compared to the rise in sales of the number of internet-enabled televisions, which iSuppli estimates will reach nearly 150 million in 2014.
Despite the forecast growth in stereoscopic screen sales, the consumer electronics industry is running ahead of the availability of 3D media, which remains limited to a small number of movies and some sports events on pay-television.
The DisplaySearch report acknowledges that some significant obstacles, like consumer perceptions of the special glasses required to watch 3D TV, remain unresolved. Another issue is the effective loss of light output as a result of presenting separate images to each eye.
A separate study estimates that 80% of televisions sold in the United States will be 3D-ready. The report by Parks Associates finds that 13% of households in the United States are familiar with 3DTV, an increase of 10% from the previous quarter. Nearly half of those households said they would be prepared to pay for 3D programming, particularly movies. So far this has not translated into sales of sets.
"Efforts such as the ESPN 3D broadcast of the 2010 World Cup are great experiments and effective in building awareness of the technology, but they have not resulted in extraordinary 3D TV sales," said Pietro Macchiarella, research analyst at Parks Associates.
"As content and service providers launch new 3D channels and Blu-ray discs, consumers will start to see more value in this technology, and shipments will increase as a result. By 2014, 80% of the TVs sold in the United States will be 3D-ready. Hollywood's push to increase its 3D production benefits consumer awareness of the 3D experience and stimulates interest in bringing it to the living room."
While 3D TV catches the imagination and the headlines, the real story in 2010 is internet-enabled televisions, according to research company iSuppli. It estimates sales of 4.2 3DTV sets in 2010, slightly more optimistic than DisplaySearch, but notes that global shipments of televisions with internet capability will amount to 27.7 million units in 2010, rising to nearly 150 million units in 2014.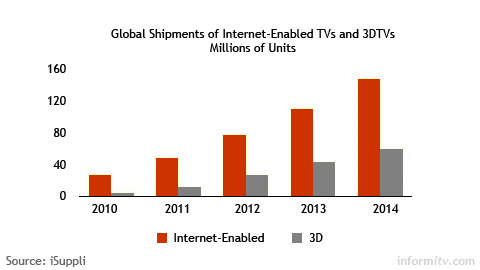 "Despite aggressive promotions from the industry and intense consumer interest generated by the blockbuster Avatar and other titles, the 3D TV market in 2010 will be limited to a small pool of enthusiastic early adopters," said Riddhi Patel, director and principal analyst for television systems at iSuppli. In contrast, internet-enabled televisions provide immediate benefits by allowing views to access a range of programming readily available online without the need for other bridge devices.
"The arrival of Internet-enabled TV models is part of the ongoing evolution and enhancement of TV sets," he said. "Because innovation is a must in order to drive consumer adoption and replacement, the TV industry has embarked on a path of enhancing the consumer experience through interaction with their TV sets."
North America and Western Europe will account for much of the market over this period, with the latter emerging as the largest single market for internet-enabled televisions.
As far as informitv is concerned, network-connected television devices and displays will be far more significant than 3DTV, but it should be noted that the two are not mutually incompatible.
Adding stereoscopic capability to a display is a relatively simple matter, particularly for active systems, so it could become a standard feature on high-end displays, irrespective of whether it is actually used.
Adding a network port is also straightforward, but supporting the necessary software and interfaces to deliver a compelling connected television experience is much more involved. That is where initiatives such as Google TV could be critical in providing an open operating system and interface for television devices.
The DisplaySearch Quarterly TV Design and Features Report covers the latest trends in television display technology. The Trends in 3DTV report is available from Parks Associates. Internet-enabled Television Market at the Inflection Point is published by iSuppli.
www.displaysearch.com
www.parksassociates.com
www.isuppli.com