Sky has revealed further details about the Sky Anytime+ video on demand service that it will be launching later this year in the United Kingdom and Ireland. In addition to broadcast programmes that are stored on a private partition of the digital video recorder, a wider selection of programming will be available for viewing on demand over broadband. For the first time we can see what the service will look like.
Sky Anytime+ seamlessly adds programming delivered over broadband to the existing Sky+ HD electronic programme guide.
The Sky Anytime+ offering will initially only be available to subscribers with both a Sky+ HD box and Sky broadband subscription. An over-air-download will be transmitted to update the software in existing Sky+ HD boxes. These already have an unused Ethernet network port which customers will have to connect to the Sky broadband wireless router. An add-on WiFi adapter made by Netgear will be available for those needing a wireless solution.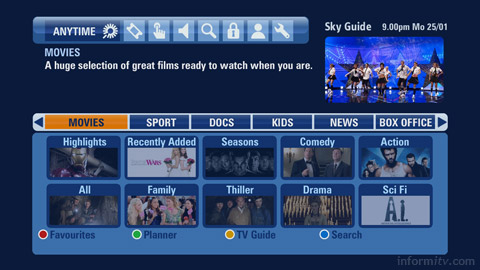 Sky Anytime+ will be accessed from the electronic programme guide by pressing the red button. As currently, it will include a Showcase of programming delivered via satellite and stored on the digital video recorder ready for viewing any time. The catalogue of other titles will be available for progressive download over broadband for playback shortly after selection.
Editorially promoted programming will be presented by channel, genre and subgenre, with availability depending upon subscription. Thumbnail images will be provided and programmes can be previewed by pressing the red button again to view a trailer.
Once chosen, a programme will begin to download over broadband and will be viewable shortly after. The rest of the media downloads in the background and the search and scan banner will show the progress of the download. Standard Sky+ pause, play, fast forward and rewind and bookmark functions will be available within the downloaded material. Multiple programmes can also be queued for sequential download.
Initially, on-demand programmes will only be available in standard definition, which is a significant limitation for viewers with a high-definition recorder.
The Sky Anytime+ service will also be limited initially to Sky broadband customers, although it could be rolled out to other service providers in the future.
Sky has approaching 10 million satellite television homes, over a quarter of which now have Sky+ HD, which is now the default offering to new and upgrading customers. Around 2.5 million homes have Sky broadband. The overlap between the two is not published, although 1.9 million customers take television, broadband and telephony services from Sky.
There is no indication whether Sky Anytime+ will include comprehensive catch-up programming from the major broadcasters, although the current stance of the BBC suggests that it will not allow its programming to be selectively distributed in this way, outside its own BBC iPlayer offering.
The integration of video delivered over broadband to the satellite service will address the competitive advantage to provide video-on-demand. No doubt comparisons will be drawn between the range of programming available and ability to view high-definition, even 3D, programming on cable, but the structural advantage of cable will be challenged.
Satellite delivers massive broadcast bandwidth to the home. The latest Sky+HD 1TB boxes come with a terabyte of storage, enough for around 240 hours of high-definition programming, with a further 500GB available for Sky Anytime+ and other advanced services. Coupled with programming delivered on demand over broadband, this hybrid solution can offer a compelling home entertainment solution.
What is still missing is integration with other internet services, or the ability to access other media available on a home network. Such features are already available on network-connected televisions, so the combination should be adequate for many needs.