TellyLinks aims to provide relevant web links synchronised to television programmes. It is the idea of a former executive at commercial broadcaster ITV. Unfortunately, the service was withdrawn shortly after launch, apparently due to an "unexpected high volume of traffic," so it is too early to tell whether it will work or if viewers would be better off simply using Google or Twitter.
TellyLinks is an initiative launched by Jeff Henry, the former chief executive of the consumer division at commercial broadcaster ITV, together with Rob Ovens, its former managing director of digital channels.
With the strapline "You think it… we link it" the aim is to link television viewing and web browsing by providing links related to on screen programming. The idea is as old as interactive television, but rather than being overcomplicated by concepts like clicking on hotspots, it assumes viewers will be browsing on a laptop or mobile device. Such multitasking is increasingly prevalent, but it begs the question why users might not simply search on Google or follow a Twitter feed.
"The service is an editorial play, rather than a technical one, and offers viewers an opportunity to craft a multitude of exploratory experiences," said Jeff Henry, who heads the startup venture.
There may be room for a service that is more closely linked to television, particularly with a view to new broadband connected television devices and displays, and the increasing use of apps on devices such as smartphones while watching television, but it would need to scale to deal with hundreds of channels and millions of viewers.
It appears that this particular service was simply not geared up for this. Despite only being promoted from a single programme, Numb3rs, on a channel Five in the United Kingdom, soon after launch the TellyLinks.com web site became unavailable.
"In light of the unexpected high volume of traffic" the service was apparently "overwhelmed by viewer response," according to an apology graphic displayed on the site.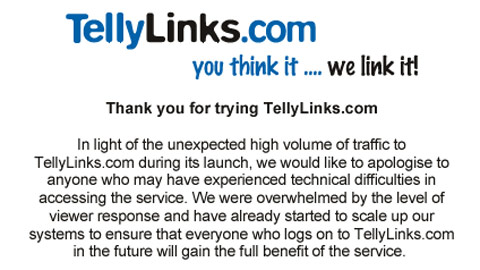 Tellylinks hopes to roll out across all five main terrestrial channels before the end of 2010, but will need substantial investment if it is to see the light of day after a disastrous first night.