Carphone Warehouse is considering the options for its television operation in the United Kingdom after its TalkTalk phone and broadband business recently completed the acquisition of Tiscali UK for £236 million. With it came the Tiscali TV service which was itself acquired from Video Networks but reportedly still has only 50,000 customers.
TalkTalk is a wholly-owned division of The Carphone Warehouse Group, although there are plans to demerge it as a separately listed business. It is now the second largest broadband service provider in the United Kingdom and arguably the largest provider of residential broadband services.
Charles Dunstone, the chief executive of Carphone Warehouse, has previously been sceptical about providing television services. He told the Financial Times that the group was studying whether TalkTalk should expand the Tiscali TV operation. He said there were no immediate plans to "switch off" the service.
TalkTalk is apparently also evaluating whether to participate in project Canvas, a proposed joint venture between the BBC, ITV and BT to establish and promote a platform for hybrid broadcast and broadband delivered services.
Prior to its acquisition, the Tiscali TV submission to the recent BBC Trust consultation on Project Canvas was generally critical, describing the proposals as "lacking in substance, on technical, market and commercial aspects".
Any decision on Tiscali TV is likely to take into account the outcome of the Canvas project, in the event that it proceeds. Further details of the Canvas proposals are expected to be announced imminently by the BBC Trust, after it referred the project back to management following a consultation that revealed serious concerns from a number of companies.
"We might say Canvas isn't the answer and we will go and reinvigorate Tiscali TV," the chief executive of Carphone Warehouse told the FT, although no final decisions have been taken.
The only true internet protocol television service in the United Kingdom, Tiscali TV was created from the previous acquisition of the HomeChoice service from Video Networks in London. The service was rolled out to a number of cities across the country, but has struggled to make much impression. No recent figures have been published, but there are believed to be only around 50,000 subscribers.
In the last two quarters the communications regulator Ofcom has attributed around 100,000 homes to the Tiscali TV service, up from an estimated 50,000 a year previously, according to GfK consumer research.
The Tiscali+ service provides a twin tuner digital video recorder, combined with live channels and video on demand services delivered over broadband. A new high-definition widescreen electronic programme guide was recently launched, not before time as its previous interface was barely usable. Jonathan Sykes, the managing director of Tiscali TV, has described the new guide as "the most elegant and usable TV EPG in the UK".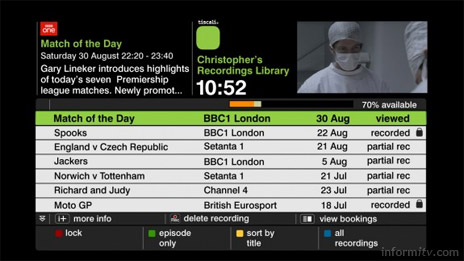 The Tiscali TV service includes some unique features, such as the ability to personalise accounts so that they are greeted by name, although to add new names it is necessary to call customer services, and it assumes that users will want to log on to their television in the first place.
Another feature is the ability to access catch-up programmes from fifteen minutes after they are first transmitted. There are also some bizarre omissions. For instance, subtitles are only available from broadcast channels received through an aerial.
Tiscali TV competes with the BT Vision service, which also combines broadcast channels with video on demand delivered over broadband, although it does not currently deliver broadcast channels over broadband. BT Vision has around 500,000 customers, twice as many as a year ago, but still well short of its projections of 2-3 million by 2011. Both services have struggled to make an impact in the face of massive marketing from Sky and Virgin Media.
www.carphonewarehouse.com
www.talktalk.co.uk
www.tiscali.co.uk