AT&T, the exclusive distributor of the Apple iPhone in the United States, has a new application that allows users to schedule and manage digital video recordings on the move. The U-verse TV Mobile Remote Access application for the iPhone and iPod Touch is available for free from the Apple application store. It lets users record programmes wherever they are. It is not the first application of its kind, but it shows how AT&T is integrating its services.
"This is the perfect example of how AT&T is bringing services together to deliver a better experience for customers," said Jeff Weber, who is responsible for video services for AT&T in the mobility and consumer markets.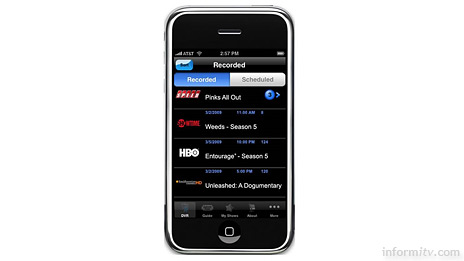 The app allows U-verse customers to search programme listings, schedule programme or series recordings, manage or edit scheduled recordings and delete stored DVR content.
The latter features take advantage of an interactive link between the mobile application and the digital video recorder in the home. Other similar applications, such as those that can be used with the Sky satellite platform, simply send requests that are delivered to the digital video recorder over the air.
So far, AT&T does not allow customers to access the media available through their digital video recorder, in the same way as is possible with Sling Media. In fact, AT&T has prevented many streaming video applications on the Apple iPhone in its market.
AT&T U-verse was one of the first providers to introduce remote access to the digital video recorder over the web in November 2006. This was followed by mobile remote access in April 2007. The following year AT&T launched its Total Home DVR system, allowing customers to watch standard and high-definition recorded shows from a single digital video recorder on any connected TV in the home.
The AT&T U-verse service how has around 1.3 million customers in the United States.
AT&T has extended its existing relationship with Alcatel Lucent as the primary end-to-end supplier for the U-verse service. The partnership began in 2004, between SBC and Alcatel.