While every programme now has a web site and broadcasters have been wrestling with the challenge of making their programming available over broadband, integrated formats that take real advantage of the web have been few and far between. A commission from Channel 4 has enabled Oil Studios to break new ground and they have a number of other interesting formats in the pipeline.
Routes is a new interactive drama exploring the world of genetics and bio-ethics that is being broadcast on Channel 4 over four nights in their Three Minute Wonder slot aimed at developing new talent. It investigates the murder of an eminent geneticist found dead in a hotel room in Peru. He also happens to be the chief advisor to the web associated with the programme.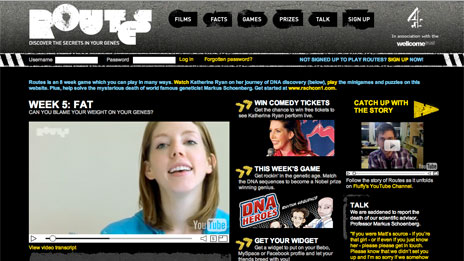 The format blends fact and fiction, broadband and broadcast, using Youtube and blogs to develop the story to good effect. There have been previous attempts to create interactive drama online and on television, but the very notion of interactive narrative has always been problematic. It seems the best solution may lie in game formats that can sustain alternate realities.
Routes is also a cross-platform game which introduces the audience to the world of genetics through documentary, gaming and interactive drama. It features the engaging Canadian comedienne Katherine Ryan as she seeks to investigate her own genetic makeup.
The science underpinning Routes has been developed in partnership with the Wellcome Trust as part of the Darwin200 programme celebrating the bicentenary of the birth of Charles Darwin.
Oil describes itself as a new breed of studio, creating interactive drama and entertainment programming across multiple platforms, using digital production techniques to create low-cost but high-value properties. Its aim is to create multilayered narratives that employ various levels of interaction to create a more engaging user experience.
It is a promising approach that goes beyond formats that simply rely upon audience interaction or participation to determine the outcome of the story.