Al Jazeera is making some of its news video material available for use by television stations, web sites and other users under a Creative Commons licence. The Arabic news network has exclusive coverage of the current crisis in Gaza. It is the first time that video from a news broadcaster has been released under the licence, which allows for attributed commercial and non-commercial use.
Al Jazeera has create a dedicated web site to act as a repository for the material, which is being added to daily. The rushes are being made available as standard definition MPEG files in 4:3 format, complete with shot lists. The files are hosted by blip.tv.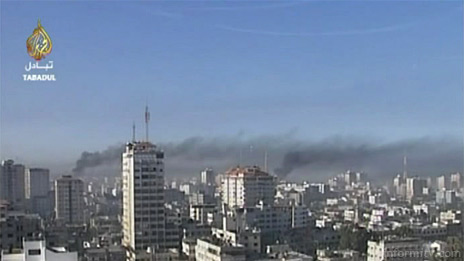 "The launch of Al Jazeera's Creative Commons Repository means that our Gaza footage will be made available under the most permissive Creative Commons licence," said Mohamed Nanabhay of Al Jazeera who launched the initiative. "With the flexibility of the licence we expect to introduce our outstanding coverage to an even wider audience across the world. This means that news outlets, filmmakers and bloggers will be able to easily share, remix and reuse our footage."
Any usage must attribute the material to Al Jazeera, but not in any way that suggests endorsement, leaving its logos intact.
Al Jazeera started out over twelve years ago as the first independent Arabic news channel in the world dedicated to providing comprehensive television news and live debate for the Arab world.
The Creative Commons organisation was founded by Lawrence Lessig, a law professor at Stanford University. "Al Jazeera is teaching an important lesson about how free speech gets built and supported," he said. "By providing a free resource for the world, the network is encouraging wider debate, and a richer understanding".
Joichi Ito, the chief executive of the non-profit Creative Commons corporation said that providing material under a Creative Commons license to allow commercial and amateur use is an enormous contribution to the global dialog around important events. He said: "Al Jazeera has set the example and the standard that we hope others will follow".
Other broadcasters have used Creative Commons and similar licences but generally on more restrictive terms, for instance not allowing commercial re-use.
The BBC experimented briefly with its own Creative Archive Licence that only allowed work to be used and distributed within the United Kingdom on a non-commercial basis. Only a limited amount of material was released at low quality and was then removed when the trial was ended in September 2006.
News organisations routinely exchange or syndicate video and exploit their archives commercially, but the Al Jazeera initiative begs the question whether some other broadcasters could make more material available under a Creative Commons licence.
english.aljazeera.net
cc.aljazeera.net
www.creativecommons.org
www.bbc.co.uk