Tioti TV+ from start-up company Vizimo is a new application available from the Apple store that allows viewers to schedule their viewing using their iPhone or iPod Touch. Vizimo, which describes itself as developing 'next-generation guidance', recently acquired Tioti, a web site built around programme information and a social network.
The Vizimo next generation guidance platform is based on a recommendations engine. The company emerged at the beginning of 2008 with a modest £650,000 in seed funding. It acquired Tioti in early December. No financial terms of the transaction were published.
"The worlds of TV, mobile and web are becoming interdependent and Vizimo aims to deliver to the industry ecosystem what they need to capitalise on that convergence, whether that be mobile video-on-demand or an iPhone application," said Simon Steward, the chief executive of Vizimo.
"It's incumbent on everyone in the ecosystem to deploy technology now, to help consumers and advance their own business. There are so many channels and so many sources that it's virtually impossible for a viewer to find and remember all the programmes that they might want to watch so they can plan their day or evening in front of the TV. They need help."
The Tioti TV+ application aims to put the portable Apple devices at the heart of controlling a broader media experience.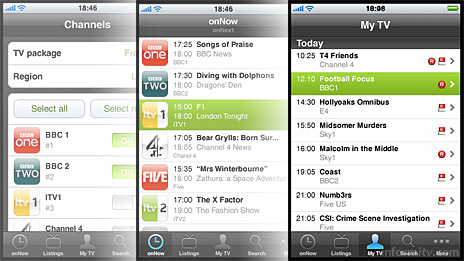 As well as displaying channel listings, Tioti TV+ enables users to generate a personalised viewing schedule. Users can mark programmes on different channels and display a consolidated view of their favourite programmes. There are also suggestions of similar programmes. Users with Sky+ can use Tioti TV+ to set their personal video recorder remotely using the facilities available through the sky.com web site. Programmes can also be streamed directly from the BBC iPlayer service.
Unlike traditional approaches to electronic program guides and newspaper listings, Vizimo aims to combine both scheduled and on-demand video with the personal profiles of individuals, dynamically creating a personalised, information-rich guide for each user; delivered via mobile devices, the web and set-top boxes.
Regular informitv readers may recall that Tioti, which originally stood 'Tape It Off The Internet', launched in the spring of 2007, based on links to programmes available for download.
A relaunched Tioti web site will use Vizimo personalisation and recommendation systems to enhance its proposition, while Vizimo will make use of some of the social features of the Tioti web site to demonstrate its capabilities, explained the Vizimo chief executive.
"A shop window is by far the best way of demonstrating to the whole TV ecosystem — broadcasters, content owners, device manufacturers, mobile operators, publishers and even existing guides — what they could be doing if they elected to incorporate functionality such as recommendation and personalisation into their own offering, fronted by their own brand."
"If users can watch anything at any time on any device, how do they decide what to watch? Existing TV guides for broadcast content — such as electronic programme guides on set-top boxes or TV listings in newspapers, magazines and on the web — are no longer relevant when consumers have access to content from so many sources and on multiple devices. They need 'next generation' guidance, and that's what Vizimo delivers," he said.