AT&T will sell its U-verse broadband television service in over 600 Wal-Mart and Circuit City stores in areas where it is available in 13 states across America. The telecommunications company aims to double its U-verse users and reach a million homes by the end of the year. It is extending the service with a Total Home DVR that allows users to watch recorded programmes on any connected television in the house.
"We've been expanding U-verse availability at a rapid pace, and now we're expanding the way millions of consumers can learn about the benefits of AT&T U-verse and order the service," said Glenn Lurie, who is responsible for national distribution at AT&T.
U-verse will be promoted in stores in Arkansas, California, Connecticut, Illinois, Indiana, Kansas, Michigan, Missouri, Nevada, Ohio, Oklahoma, Texas and Wisconsin. Customers will be able to learn more about the U-verse service and place an order in store.
AT&T is the only national service provider to offer a pure IPTV television service. It had just 550,000 subscribers at the end of the second quarter in 2008, up from 230,00 at the beginning of the year. The company plans to have more than a million by the end of the year. The network currently passes around 11 million homes and they hope to reach 30 million by the end of 2010.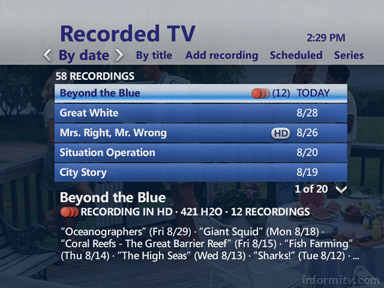 Total Home DVR
U-verse is now promoting a 'Total Home DVR' that allows users to play back recorded shows from a single digital video recorder on any connected television in the house. Users can pause a show in one room and pick up where they left off in another. They can play back up to four recorded shows, with up to three in high-definition, at once.