Bill Gates, the chairman of Microsoft, announced at the International CES show that its Mediaroom software is now running on over a million set-top boxes. Among them are customers of BT Vision, who will also be able to access the service through an Xbox 360 games console. Microsoft is expanding the range of movies and television shows that will be available on Xbox. It is also partnering with NBC to make the Olympics available online, both live and on demand.
In his opening keynote, Bill Gates referred to the idea of television meeting the internet, a theme that Microsoft has been championing for a decade or more. "Well, we've really kicked that off in a big way," he said, "with Mediaroom now connecting up to over a million users, and people for the first time realising they can build content that's unique, a news show where you see only the things you're interested in, or taking rich complex events, like elections, and allowing people to navigate those in new ways."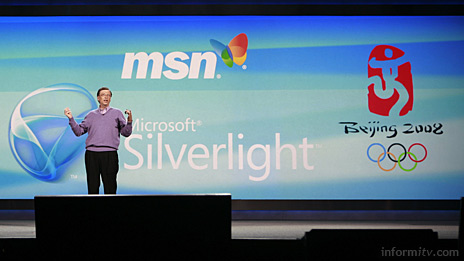 In what he called the second digital decade, Bill Gates referred to "things that we haven't tackled yet, like the ultimate change to all of TV". He cited as an example the partnership with NBC to provide online coverage of the Olympics, in the United States at least, showcasing the new Microsoft Silverlight environment on its MSN service.
"We'll take the 3,600 hours of all of the different events, and we'll make it available live, we'll make it available on demand, and we'll let you customise so that you can see what you're interested in, be alerted of the different things taking place." He said that it will show why television is going to be different in the future. "Events like this in the broadcast format just aren't as satisfying, not as great as we'll be able to make the Olympics," he said.
The NBC Olympics web site will allow viewers to watch events when and where they want, said Gary Zenkel, president of NBC Olympics. "An on-demand Olympics means online viewers will be able to return to their favourite Olympic moments over and over or watch a performance they may have missed."
Robbie Bach, president of the entertainment and devices division at Microsoft, picked up the theme. He announced that ABC and Disney will be making past and current episodes of their television shows available on Xbox live, again at least in the United States, with new ones available the day after they air on television. MGM and United Artists will offer a library of films.
"Xbox Live," he said "will offer more than twice as many hours of on-demand, high-definition content as any cable or satellite provider. "Over 35 studios and networks are supporting us now, and it's quite clear that online distribution is going to be a powerful force in the future of video."
Xbox also allows media from the personal computer to be extended to the television. Microsoft also announced new extender devices from Samsung and HP, the latter built into their new range of Media Smart TV's.
Microsoft said its Mediaroom IPTV platform, currently deployed or in trial with over 20 service providers, is now in use on a million television screens, although that does not necessarily correspond to customers. Microsoft said it is "on pace to reach 1 million subscriber homes in the first quarter of 2008."
For those subscribers with more than one box, Microsoft announced its DVR Anywhere feature, allowing programmes to be recorded on one and distributed to other screens over a home network. For example, viewers could begin watching a movie in the living room, resume viewing in the kitchen, and finish watching in the bedroom.
Microsoft also announced interactive applications it is developing for Mediaroom in conjunction with ChoiceStream, emuse technologies and ES3, together with Showtime Networks, and Turner Broadcasting Systems' TNT and CNN. These will include the ability to view NASCAR races from the viewpoint of different drivers, to watch boxing matches by selecting different camera angles and audio feeds, and to access coverage of the presidential election on cnn.com while watching the television channel.
These, of course, are classic examples of interactive television that have previously been available, but the hope is that Microsoft Mediaroom will make them somewhat slicker than on conventional television platforms.
Xbox 360
Last year at CES, as reported by informitv, Microsoft previewed the possibility of using an Xbox as a set-top box. "This year we're excited to announce that British Telecom will be the first operator to provide that capability," continued Robbie Bach. "You'll be able to buy an Xbox 360 through BT, use it as a gaming console, as well as a set-top box on your TV."
Customers will still need a set-top box to receive and record television channels, however, as BT Vision is a hybrid service, with broadcast signals still received through a traditional aerial. Existing Xbox users may be able to hook up their console to the BT Home Hub gateway and access the BT Vision service through a firmware update delivered over the network. They will then also be able to use Xbox Live messaging services while watching television.
Motorola will replace Philips as the main supplier of the BT Vision set-top box. The Philips set-top box business is being acquired by Pace Micro Technology. Microsoft and Broadcom are meanwhile working together to enable the Mediaroom client software to operate on next-generation set-top boxes using a system on a chip design.
It all adds up to a slow realisation of the ultimate vision of a connected home, in which computers, consoles, set-top boxes and other devices can co-operate to deliver a seamless user experience to any screen. Nevertheless, in television terms, a million Mediaroom screens worldwide is still a small number. The real test will be to see how fast current growth will accelerate in the coming year.
"It's abundantly clear that building great, connected TV experiences is not a hobby for Microsoft," said Robbie Bach. This is an oblique reference to Steve Jobs of Apple, who last year described the Apple TV product as a "hobby," adding that "a lot of people have tried and failed to make it a business". In contrast, the Microsoft man said: "This is something we take quite seriously, and we think we can build a great business with great products for our customers."