A new product designed for interactive television operators allows tracking of mobile phones by viewers. It will enable parents to see the current location of a child's mobile phone on their television and allow them to send text messages using their remote control.
The product is claimed as a world first for digital interactive television. Developed by DigiSoft.tv and Tech Mahindra, DigiTracker is designed to be offered by IPTV operators as an added-value service. The opt-in application integrates with location based services and mapping systems to display the location of a mobile phone on screen.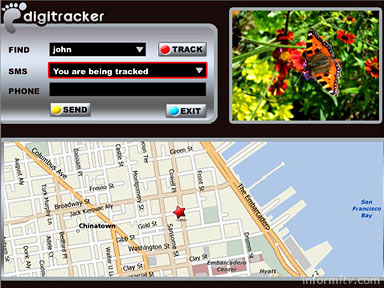 "There is an immense appeal for this type of technology as parents concerned about the safety, well-being and location of their children can know exactly where they are," said John Allen, the chief executive of Digisoft.tv.
"This is the start of a whole new age for TV as the entire interaction takes place from the armchair at home, while watching a TV show, using nothing more than the TV remote control," said Shankar Allimatti, of Tech Mahindra.
DigiSoft.tv is based in Ireland, with offices in the USA, Holland, Singapore and New Zealand.
Tech Mahindra is one the leading Indian software exporters, serving telecom service providers, equipment manufacturers, software vendors and systems integrators. The company is majority owned by Mahindra & Mahindra, in partnership with BT Plc.
DigiSoft and Tech Mahindra Limited TechM announced a partnership at the NAB convention in April.