An independent developer has created a Flash version of the Joost interface that runs in any web browser. It is only a proof of concept but it shows what is possible. While it is a faithful representation of the Joost application, it also enhances some aspects of the interface.
The Flash interface has emerged as a demonstration project as Joost claims to have signed up over a million users prior to the launch of the broadband video platform.
Developer Paul Yanez from San Diego in California says he spent about a month building a browser-based interface for Joost in Flash.
Having tested the Joost application he was frustrated with having to download a new version every time it was updated. So he created a faithful facsimile of the Joost interface in Flash. It runs within a browser and can also be used in full-screen mode.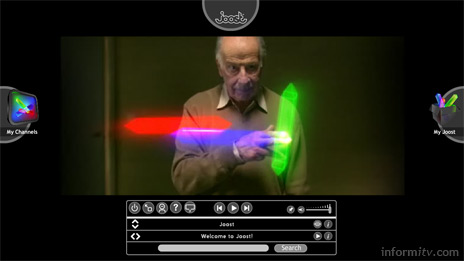 The aim was to build a web-based interface comparable to the Joost executable application that does not need to be downloaded and installed. His version is based on a single Flash file and a simple PHP back-end.
The Flash version is claimed to work in all browsers on all operating systems. Any enhancements and upgrades would be transparent to the user and any preferences would be retained since the application is hosted on a server.
The developer says he has improved on some aspects of the user interface to make it more consistent and more usable.
It is only an unofficial proof of concept and it does not support the proprietary peer-to-peer distribution used by Joost. Instead it streams Flash video from other online sites.
It certainly shows what is possible in Flash and shows what can be achieved by a talented individual developer. Paul Yanez is now planning to produce Apple TV and other skins for watching web video.