Classic television titles, including Paddington Bear and The Wombles, will soon be available for download to teddy bears. The iTeddy toy with a built-in personal media player for children has been launched after featuring on Dragons' Den, the BBC television programme in which entrepreneurs pitch for investment.
iTeddy is an interactive teddy bear with a detachable media player, which allows children to view photos, watch videos, listen to music, nursery rhymes and bedtime stories. Available in white or brown, it has a small screen, built-in speakers and 512MB of memory, with an expandable SD memory slot and a USB connection for data transfer.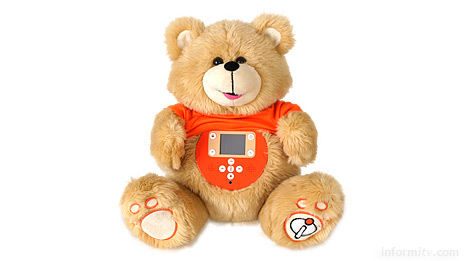 Top children's television titles will be available on a download to own or subscription basis through the iTeddy digital store. This will be populated through programmes aggregated by the British Internet Broadcasting Company, BIBC, through its MediaMaster managed service.
Paul Hague, the chief executive of BIBC, who previously worked with IBM and Cap Gemeni, has spent the last two years developing their internet broadcasting solution.
"BiBC have been an integral partner in bringing the iTeddy web portal to market," said Imran Hakim, the managing director of iTeddy. "Through working with BiBC we are able to provide a huge choice of premium children's content, yet thanks to BiBC's MediaMaster technology we don't need to worry about rights management, royalty payments and reporting — it does all that for us."
Imran came up with the idea for iTeddy when thinking about the perfect present for his niece. He took it to the BBC programme Dragons' Den and in return for 40% of his company, Imran Hakim received £140,000 from investors Peter Jones and Theo Paphitis.
The iTeddy will soon be available for purchase online and will be available for sale through an exclusive multi-million pound agreement with UK retailer Argos.