VeohTV is the latest contender aiming to transform the online video landscape. Their downloadable application, currently in pre-release testing, builds on the previous Veoh Player to provide a single internet television experience for viewing online video. It is specifically designed to be driven using a remote control and seems to provide a much better viewer experience than Joost.
VeohTV acts as an online video browser and digital video recorder for discovering, viewing and managing online video from across the internet.
"Unlike Joost, which is a closed system with content from a limited number of sources, VeohTV supports open Internet standards and has access to virtually all of the video content on the Internet, on demand," said Dmitry Shapiro, the founder and chief executive of Veoh Networks.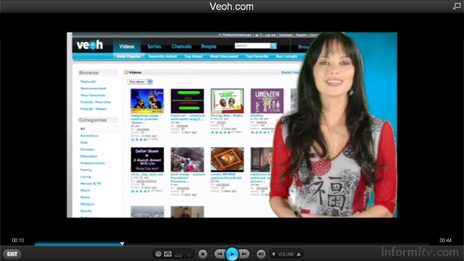 The new application is being promoted with plaudits from industry executives. "It's a great product," said Barry Diller, the chairman and chief executive of Interactive Corp.
"Veoh has leapfrogged the field with their dazzling new video application," said Ross Levinsohn, former president of Fox Interactive Media. "The new Veoh will set the bar very high for others to shoot for and will be a terrific experience for consumers worldwide."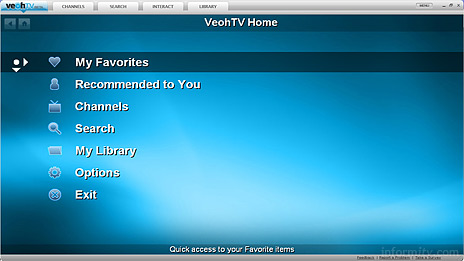 VeohTV provides a channel guide, populated with programming from major American television networks, as well as YouTube, Google and the Veoh web site. Video can be streamed directly from the host services. Where permitted, video can also be downloaded for later viewing, either on or offline. There is also support for downloading BitTorrent files.
The application comes with a built in peer-to-peer download manager, which is able to schedule dowloads within specified times, and an upload manager, to enable videos to be contributed by users.
There are search and recommendation options and user ratings. An extensive and extendable range of interactive widgets is available, with which the user can interact while watching a playlist of their selected programming. An optional plug-in for Explorer or Firefox enables videos found on popular video sites to be added to a local library for later playback.
Overall, VeohTV is slickly designed and smooth in operation, with the general responsiveness of an executable application rather than a browser-based experience. It feels more like television.
It still suffers from a lack of compelling programming, rather randomly arranged, but being based on an open platform its library is unlimited, like the web.
Based on feedback from the Veoh web site, it responds to the needs of its users, rather than imposing a vision of what television might become as envisaged by engineers that do not appear to have any real interest in the medium. In that, at least, it is an advance on Joost.
VeohTV delivers the user experience for broadband video that many users have been waiting for. It may not please the major broadcast networks to have their programming presented in a third-party player, but it may make more sense for the consumer.
Veoh Networks is privately held and backed by leading technology and media investors, including Spark Capital, Shelter Capital Partners, Time Warner and former Disney executive Michael Eisner's Tornante Company.