BT has unveiled its national advertising campaign to promote BT Vision to viewers in the United Kingdom as "TV on your terms". The multi-million pound campaign will lead with national television commercials, supported by print and online advertising.
The television commercials feature the Adam and Jane couple from the existing BT Broadband campaign rushing home from work in anticipation of their ideal night of television.
Ironically, the era of rushing home to watch television may already be outmoded by the advent of the digital video recorder and video-on-demand services that BT Vision offers.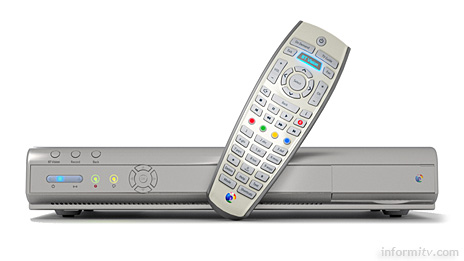 The V-box, not to be confused with the Virgin Media V+ box, can record up to 80 hours of broadcast programming and provides access to video-on-demand services delivered over broadband.
In extending its existing broadband brand awareness advertising, BT is avoiding some of the issues associated with explaining features such as digital video recorders or video on demand.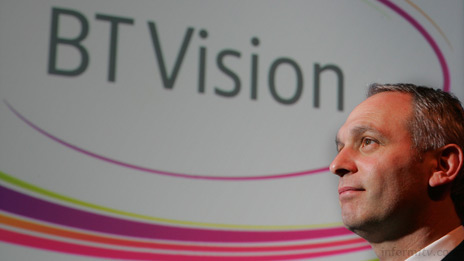 Dan Marks, the chief executive of BT Vision said: "BT Vision offers customers choice on their terms: free digital channels, digital video recording, and a huge range of on-demand content — and all without compulsory subscriptions".
The BT Vision service will be sold in stores as well as online and through call centres, but initially at least will require a BT Broadband subscription and a BT Home Hub. The box will be free to new or existing BT Broadband customers, subject to an installation and connection fee. It will be available for self-installation later in the year.
"When people are considering digital TV, the campaign spells out why BT Vision offers the best option — no matter what their mood or viewing occasion," said Lib Charlesworth, the director of sales and marketing at BT Vision. "The messaging is underpinned by how easy it is to control how much or how little customers choose to pay for BT Vision."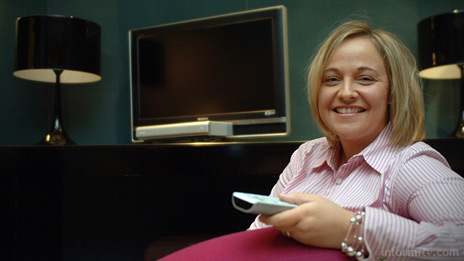 "This campaign seeks to establish BT Vision, and build a strategic positioning in an increasingly competitive market, drawing on the striking visual identity and generating long-term awareness amongst consumers of BT Vision as 'entertainment that's right for me'."
The BT Vision service was soft launched to the media in December 2006. It has picked up a few thousand subscribers in advance of this full marketing launch, in a deliberately measured roll-out. The proof of the proposition will now be tested by consumer adoption with the backing of a broadcast advertising campaign.
BT Vision is launching into a crowded and competitive market, with Sky and Virgin both battling to sign up subscribers. Virgin Media invested £25 million in its rebrand and succeeded in signing up 75,000 new subscribers to its television service in three months, but lost customers overall.
BT hopes to harness the interest in Freeview, now the leading digital television platform in the United Kingdom, by providing a hybrid service that combines the best of broadcast and broadband. The challenge will be to move from being seen as a communications utility provider to become a brand associated with media and entertainment.