British satellite broadcaster BSkyB has gone live with a broadcast video-on-demand service, initially to its customers with high-definition set-top boxes. Selected programmes are downloaded automatically to reserved storage space on the digital video recorder.
Sky Anytime will soon be available to other subscribers with more recent Sky+ boxes. It complements Sky Anytime services available over broadband and on mobile phones.
The Sky Anytime menu is available through the main electronic programme guide by pressing the red button on the remote control. This displays an updated selection of up to 40 hours of programmes that have been broadcast and automatically stored on the set-top box. These include movies and selected programmes from other Sky channels.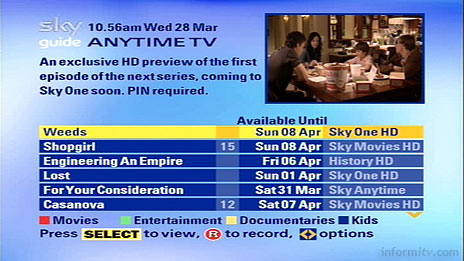 A preview of each title is available in a video window. It can be selected for immediate viewing. Programmes will be stored for a limited period, but if the user wishes to watch them beyond that, they can be moved to the main list of recorded programmes and stored indefinitely by pressing the record button.
Also included is a presenter led promotion offering a guide to programmes available for viewing through Sky Anytime.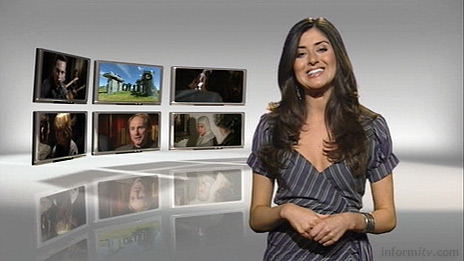 The push video-on-demand service currently offers only a selection of shows, limited by the storage of the set-top box and the broadcast delivery model. In the future, the digital video recorder could be connected over a broadband network to allow a much wider range of programming to be downloaded.
Sky Anytime already allows a wide range of movies and other programmes to be downloaded to a personal computer over broadband. This is offered as a free added-value service to subscribers of premium channels, although there are also options to pay to watch selected programmes.
The Sky Anytime brand is now therefore available on television, computers and mobile phones. It offers a response to Virgin Media which is offering a combination of cable television, broadband, and fixed and mobile telephone services.
Sky is also thought to be planning to extend its online presence to become a programming-led portal. Its major shareholder, News Corporation, recently revealed plans to launch an internet video network with NBC in the United States.
Standby for savings
Sky is introducing an energy-saving auto standby feature to its Sky HD and and Sky+ set-top boxes. This will automatically switch the box into standby mode if it has not been used for a period of two hours overnight. The feature has already been enabled for high-definition boxes, and will be made available to the majority of Sky customers over the coming year.
Sky estimates that it if the 2.5 million digital video recorders in Sky homes were switched to standby for 10 hours per day in this way it could save its customers £7.6 million in annual energy bills, or enough energy to light over 100,000 homes for a year.
The move has been welcomed by those campaigning to save energy. Sky has demonstrated a clear commitment to reducing its environmental impact, a cause which its chief executive, James Murdoch, has personally championed.
Since becoming the first media company in the world to become 'carbon neutral,' Sky is the first and so far the only media company to have signed up to the voluntary European Commission code of conduct on Energy Efficiency in Digital TV Service Systems.