Mobile TV is once again a hot topic at the 3GSM conference in Barcelona, despite any clear consumer demand. Nokia has introduced a new handset that includes support for broadcast television in a compact device. A new joint venture between Nokia and Siemens is anticipating a world of five billion people constantly connected by 2015.
The latest handset from Nokia is rather more practical than previous products and provides a vision of what some see as the future of mobile television. The Nokia N77 is the latest integrated DVB-H device in their Nseries range.
Most people would probably call it a mobile phone but Nokia prefers to refer to it as a multimedia computer. It is the first handset that appears to support video without compromising its primary purpose as a phone.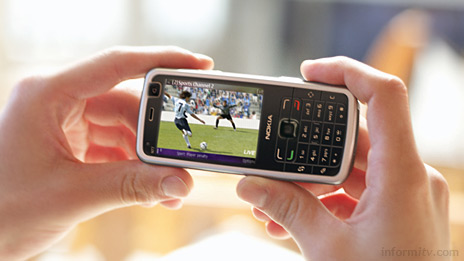 It features a 2.4-inch 320×240 pixel flat screen and stereo sound. A dedicated key switches straight to television, remembering the last channel viewed. With a seven-day programme guide, it is possible to set reminders for the start of programmes. Interactive voting via SMS text messages is also supported.
The Nokia N77 is expected to be available in the second quarter of 2007 in countries where DVB-H services are available.
"TV is the biggest media in the world and we are mobilizing it with the Nokia N77," said Jonas Geust of Nokia. "The ability to watch live television on a mobile device has never been so easy."
The premise for mobile television seems to be based on the logic that television is popular and so are mobile phones, so a combination of the two should be compelling. No doubt it will serve to drive the sales of new handsets, but the real consumer demand for mobile television remains unproven.
Meanwhile, Nokia has also announced its collaboration with YouTube, now owned by Google, that will allow users of Nseries phones–or multimedia computers–to access video clips through RSS web feeds. With YouTube Mobile, video clips will be available in the MPEG-4 AVC format.
"Our cooperation with YouTube paves the way for continued growth for internet based content distribution," said Torsti Tenhunen, director of multimedia for Nokia.
Nokia Siemens Networks
Looking forward to a world in which we are all continuously connected to broadband networks, Nokia is combining with Siemens Networks in a joint venture to create the second largest telecommunications network provider in the world, following Ericsson but ahead of Alcatel-Lucent.
"Nokia Siemens Networks will be ideally positioned to help our customers capture opportunities that will arise as the connected community swells to around five billion by 2015. In 2015, we will live in a broadband-IP world, in which five billion people in practice will be 'always on,' connected to the Internet, rich content, services and of course each other," said Simon Beresford-Wylie, designated chief executive officer for the future Nokia Siemens Networks.
The planned merger to create Nokia Siemens Networks is expected to close in the first quarter of 2007.